Beautifully located next to the RN 202, just after the spectacular "Clues de Rouaine", the hamlet of Rouaine will welcome you to its hotel-restaurant and its Gîte de France.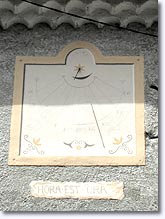 An unrivalled location in the midst of grandiose scenery , on a hillside between vertical cliffs and fir tree forests, where you'll breathe good mountain air. One or two pretty back streets, a coverage passageway, old stone barns, some of which have been beautifully renovated, some wooden balconies, etc.
It is a delight to wander along these narrow recently cobbled streets, for example Montée des Artistes with its bright colourful façades, and admire the church with its bell-tower built into a wall, and the inscription on its sundial "Hora est ora"…
From up there you'll have a magnificent view of the superb rooftops with their ancient Roman tiles, and the peaceful landscape of hills and mountains. You must stop awhile in Rouaine!