Ubraye
Departement of the Alpes de Haute Provence - Pop.: 100 inh. - Altitude :1.000 m.



9 km south of Annot via the RN 202, then at Rouaine, take the D 10 for 5 km and then the D 310 for another kilometre.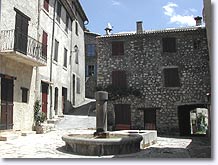 If you take this tiny road that winds along a picturesque wooded valley, overhung in places by enormous blocks of rock eroded over the millennia, don't be surprised if you come to "the end of the world".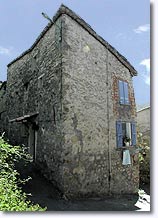 This small village is built on a slope, surrounded by a cirque of wooded hills, disturbed only by the roar of the river below.

Ubraye is rarely visited by motor vehicles (!) and enjoys absolute tranquillity.

Ubraye is on the GR 4 hiking path, right next to vertical cliffs, perfect for walkers and climbers.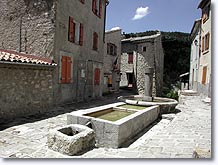 Some old stone houses protected by Roman tile roofs, a large church restored in a rather eclectic manner, a recently cobbled street leading to a delightful little square, where a fine fountain stands with its basin, a covered passageway and some beautiful doors, flowery-filled gardens and terraces and a delicious smell of barbecues...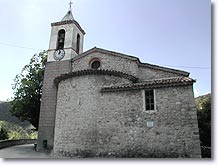 A little stroll through the village will enchant you, and if you like old stone buildings you'll be delighted: several barns require renovation and are just waiting for buyers.






What to see:
Restored churches (in hamlets in the surrounding area).


Leisure activities:
Hiking (the GR 4 hiking path).
Trout fishing in the river.


Accommodation:
Holiday rentals. Gites
Bed and breakfast and table d'hôtes nearby (1 km).