'; //-->
Aulan
Departement of the Drome - Provencal Drome - Pop.: 5 inh. - Altitude : 746m.



Via the D546 then Séderon then the D 359 for 4km.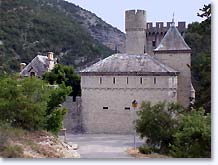 The château of Aulan was erected in the Middle Ages by the barons of Mévouillon and still stands intact on a rocky spur overlooking the gorge of Toulourenc.

Originally it was surrounded by a village that is now in ruins. Over the years it has undergone many modifications, in particular a complete restoration in the 19th century.

In the 17th century it passed into the hands of the Suarez d'Aulan family, who live there to this day, and have been welcoming visitors since 1958.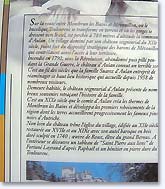 If you visit in the summer, don't miss out on the guided tour. You'll discover numerous historic souvenirs and furnishings, particularly from the Second Empire, originating from the Marquis of Aulan (1836-1915), who was equerry to Napoleon III and then M.P. for the Drôme department.

Even if you visit during the winter, you'll be impressed by the imposing sight of this magnificent fairy tale château with its towers, keeps and machicolations, protected by great walls which you can walk around.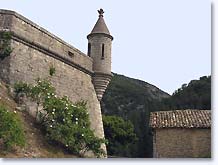 Today it is isolated in a wild area, and is imbued with a bewitching medieval atmosphere that will take you on a journey back in time.

In addition you will be able to admire the little Romanesque church built from dressed stone which stands at its feet, and contains a Baroque gilt wood altar sculpted in 1740 by Roux, a pupil of the great Bernus.




What to see:
Château of Aulan, listed in the inventory of Historical Monuments.
Guided tour in July / August from 10 am to noon and from 2 to 6 pm.
Romanesque church (18th century altar).


Leisure activities:
2 hiking circuits start from Aulan..
Local produce: Lavender and mountain lamb.


Accommodation:
Holiday rentals.


Neighbouring towns and villages:
Séderon (14km). St Auban-sur-Ouvèze (11km).