Saint-Auban-sur-l'Ouvèze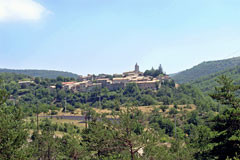 Saint-Auban was a stronghold of the Montaubans, owned by the Adhémar family in the 14th century, and is now a very peaceful little village located slightly above a plain covered with fields of lavender and cypress hedges.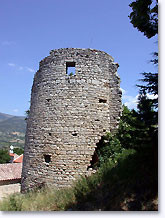 A marvellous Provence landscape frames this "lime-blossom producing village", and indeed you will park your car underneath limetrees in a small car park, where a war memorial and crucifixion monument also stand.
You can see that here, nothing has been done for tourists: lovers of authenticity will be delighted to take "Rue du Château" lined with low houses built from old stones, and a few abandoned barns.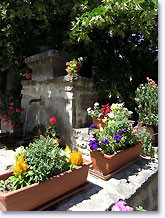 After walking past two circular towers, no doubt the remains of defensive walls, you come across a large church which doesn't look anything special. But it's as you walk down a few steeply sloping "calades" that you'll discover the hidden charms of Saint-Auban, the brown and lavender blue shades of the shutters, a vaulted passageway with its beam ceiling, a beautiful fountain in the shade of an ancient limetreee...
Everywhere, half-hidden under rose bushes and vine arbours, there are superb grey stone houses dating back to the Renaissance; some are ruined, others are being restore.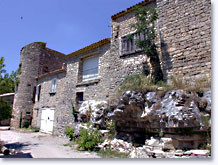 If you can appreciate the hidden beauty of Saint-Auban-sur-l'Ouvèze you will be happy. You would no doubt love to renovate one of these old historic barns, while enjoying the unobstructed view of the gentle landscape and breathing the pure heady air of its wooded hills.
Budding geologists will want to examine a still unexplained mystery: how is that chestnut trees grow on the flinty soil of the neighbouring hill ?
What to see
Church (1870).
Swan head fountain.
Renaissance Houses.
Remains of a castle.
Former family home of the Counts of Rioms.
Leisure activities
Horse riding. Walking and mountain biking.
Hang-gliding, paragliding.
Outings on quad bikes.
Bathing, climbing. Fishing.
Nature park above the village.
Accomodations
Hotel-restaurant.
Holiday rentals.