La Begude-de-Mazenc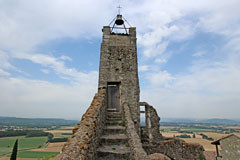 "Bégu" is derived from the Provençal verb to drink, and Bégude means "drinking place", which is logical for a former staging post.
Today, between Dauphiné and Provence, Bégude-de-Mazenc still stands at the entrance to the Country of Dieulefit and Drôme Provençale.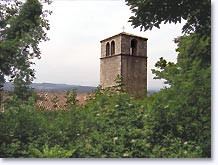 Châteauneuf-de-Mazenc is in the same municipality, but is located higher up, overlooking the plain of Montélimar. In olden times it was a stronghold of the Knights Templar, and has preserved its medieval charm making it well worth a long visit.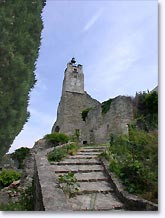 Perched on a rocky spur and protected by thick defensive walls -at the bottom of which we recommend you park your vehicle - Châteauneuf-de-Mazenc is like a preserved paradise, with its lovingly restored beautiful houses built from grey dressed stone, topped by a large Romanesque church with a square belltower.
How delightful it is to stroll here – among cypress and rose trees, climbing vines, cherry and fig trees and a few sombre firs - in the midst of these imposing residences that still have some medieval features, such as ogival windows and low vaulted doors.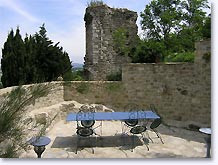 Take a cobbled pathway or a stairway with uneven paving to admire the little church of Saint Pierre with its imposing walls, or the chapel of Mont Carmel and its fragile belfrey which has withstood the mistral wind for more than five centuries.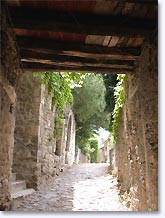 Châteauneuf-de-Mazenc is a feudal village that has been revitalised by people buying holiday homes - Germans and Dutch citizens in particular seem to like the village – and also thanks to the many artists and craftsmen who have moved in: piano teachers, theatre people, a puppet and mask maker, a jewellery maker, etc.
Chic ruins in a wonderful village that has preserved its authenticity.

What to see
Loubet park and château (18th century).
St-Pierre church (12th century, extended in the 15th and 17th centuries).
Chapel of Notre Dame. Miniature Provençal village, old photos of the church interior, etc...
Leisure activities
Walking. Swimming pool.
Arts and crafts exhibitions.
Accomodations
Hotel.
Campsite.