Chamaret
4 km from Grignan via the D71 road.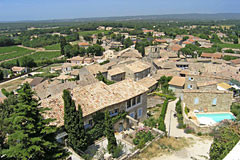 Chamaret is an absolutely typical picturesque Provençal village on a plain, with its square shaded by plane trees and its old stone houses brightened up with blue and green painted shutters.
But above all Chamaret is dominated by the superb ruins of a feudal keep 33 metres high and still in a good state of repair. It was part of a fortified castle built in the early 12th century by the local Lords.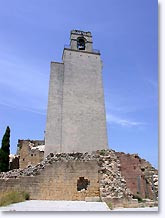 It's the main attraction of the village, and is well worth a long visit. First of all it takes a while to climb up to it, and then the view from the terrace is magnificent, taking in the surrounding countryside, the vineyards and fields of lavender, as well as the ocean of Roman roof tiles.
These majestic ruins are very impressive: not only the towering square keep, but also the massive walls where wild grass flourishes, windows opening onto dizzying drops, segments of vaulted roofing that remain intact still, between which a few proud cypress trees stands...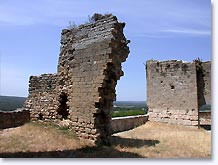 The whole castle evokes unbridled romanticism, arousing the imagination and taking you on a journey back in time.
At the top of the keep, you are at an elevation of 250 metres, with a panoramic view of Mont Ventoux, Grignan château, the plateau of Rouvergue and the mountains of the Ardèche !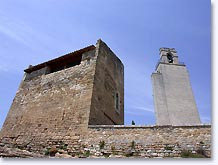 As you walk back down to the village, you can once more admire the remains of the medieval defensive walls on the hillside, in particular the 13th century "Grande Fontaine" gate.
There is also an enormous open-air wash-house with columns (called "La belle fontaine") dating back to the 18th century, some very beautifully restored stone-built houses, and the church with its square belltower and campanile with ornamental apertures.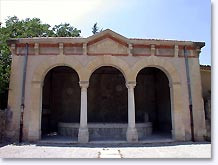 If you're feeling inquisitive, take the "Sentier des Bories" footpath and you will discover the famous "bories" (dry-stone houses), as well as some lime kilns, a standing stone and a Roman hill fort.
Not to be missed if you're visiting in September, the "Bean Feast", a very old agricultural festival dating back to the French Revolution !
What to see
Keep of the feudal castle, tour de Chamaret (12th century, restructured in the 19th century, open for visits).
"La grande Fontaine" gate (13th century).
Wash-house (18th century).
Restructured Romanesque church.
St-Barthélemy chapel.
Prehistoric remains (two hill forts, remains of Gallo-Roman villas).
Bories' trail.
Leisure activities
Walking, cycling and horse-riding.
Bean Feast (September).