Solérieux
Discover the small vilage of Solérieux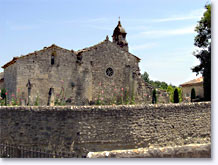 Solérieux is just a very small village dozing in the sunshine. It is located on a plain and consists of a few fine houses, some ruined barns and several farms still in operation.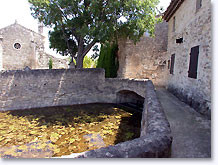 Isolated and far from the major routes, agricultural and unpretentious, it could easily be forgotten if it did not possess a real treasure, the Saint Raphaël church.
This church founded by the Knights Templar, is an absolute marvel, built in the pure 12th century Provençal Romanesque style without any additions or alterations.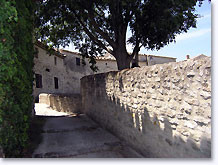 Constructed using a beautiful stone that has become grey with the passing of time, the church stands in the middle of fields of lavender, proud and noble, admirably harmonious.
At its feet lies a small man-made lake surrounded by superb pale grey dry-stone walls, adding the final touch.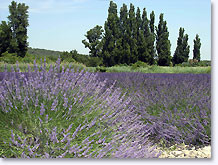 If perfect harmony exists anywhere in this world, it must be at Solérieux, a tiny forgotten village in Drôme Provençale.

What to see
St-Raphaël church: Provençal Romanesque (12th century).
Leisure activities
Hiking.
Horse riding (equestrian centre).
Nearby: Golf. Tennis. Fishing. Swimming.
Accomodations
Hotel.
Bed and Breakfast.
Gîtes. Holiday rentals.
Restaurant.