Mirabel-aux-Baronnies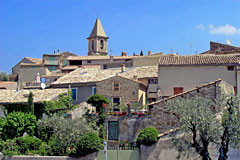 With its melodious name, this large village built on a low hill attracts the eye from far away, perched above the fertile vineyards.
Once you've parked in the external car park in front of the Hôtel de Ville, you'll be able to take your time contemplating the houses tightly huddled together, as if they are sheltering behind the fine remains of a defensive wall.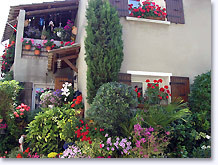 Of its medieval origins, there remain the ruins of a castle, a watch-tower and some fortifications, the church's Romanesque door...
and a spellbinding atmosphere: little gurgling fountains, one of which dates back to the 13th century and is superb, with faces sculpted out of stone, half erased by the passing of time.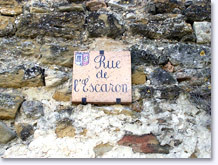 Winding alleyways either sloping up or with steps, archways, arches, covered passageways and structures seemingly embedded in the living rock...
In old Mirabel it's easy to overdose on ancient buildings built out of every tone of yellow ochre.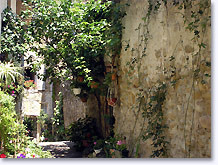 Provence is never far away, with its inevitable square shaded by plane trees, its secret terraces, concealed by the foliage, its gardens hidden behind high walls, its oil mill, etc...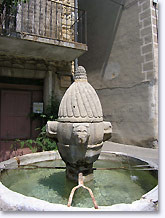 When the weather is fine this is where you will find the most flower-filled house in the world ... a veritable explosion of potted flowers of all colours and varieties, overflowing into the street thanks to the vigilance and care of their happy owner.
If only for this profusion, Mirabel would deserve the title of the most flower-filled village in Provence !
What to see
Ruins of the castle, fortification and 12th century watch-tower.
Chapel of Calvary..
Chapel of Notre-Dame de Beaulieu.
Church (former private chapel of Les Dauphins: Romanesque door, 14th century nave).
Leisure activities
Hiking, walks.
Accomodations
Hotel.
Bed and breakfast.
Holiday rentals.
Campsites.
Motor caravan parking area.
Restaurant.