Vaison la Romaine
27 km. northeast of Orange by route D975.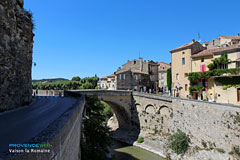 Jewel of Roman
Provence
as its name indicates, Vaison la Romaine is a must to visit in the Haut Vaucluse.
The city, higthly interesting from an archeological point of view, is surrounded by the river Ouveze.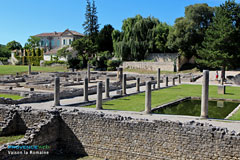 On the right bank are two different quarters: the site of the ancient Roman colony and the modern town. Archeological digs have revealed immense, luxurious, and elaborate Gallo Roman homes.
There were floors in mosaics, marble, marquetry, and statues, ponds, atriums, and private thermal baths, all showing life in Roman times..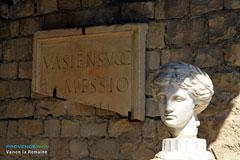 One learns that every day life was already very

refined and that the Romans attached great importance to artistic creation...
A detailed plan ot the digs of Puyman and Villasse can be procured at the Tourist Office.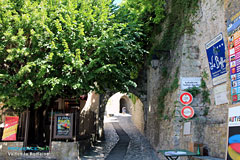 On the left bank on top of a rocky spur is the Haute-Ville, originating in the 13thc.
In Medieval times the villagers settled in the heights at the foot of the castle to protect themselves from robbers and invasion.
Today the castle is in ruins, but Haute-Ville is a picturesque spot to visit.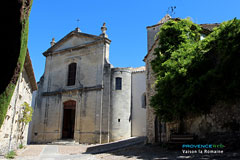 There are little shady squares, ancient doorways, and narrow cobbled streets dotted with superb fountains or lined by the fagades of 16th and 18thc. mansions.
Even if the climb to the top of Haute-Ville seems too steep, you will be rewarded for your efforts by the wonderful view of Vaison and its surroundings.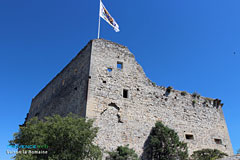 Here, in the sumptuous decor of Mont Ventoux, and the famous mountains Dentelles de Montmirail, one can journey through 20 centuries of the life of Comtat Venaissin and
Provence
!
What to see
Gallo-Roman times: Puyman and La Villasse archeological sites, 17m. wide Roman bridge.
Romanesque times: Notre Dame de Nazareth Cathedral and its cloister (between 6th and 13thc.). St. Quenin Chapel with its sculptures.
Medieval times : Haute-Ville and its 1464 church.
The Comtadin costume museum
Bed and breakfast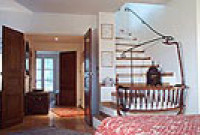 Bed & breakfast - 5 charming guest rooms including 2 suites in a private mansion tastefully decorated - Terraces - Located in the middle of the mediaval city of Vaison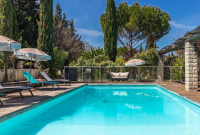 Bed & breakfast - 5 spacious charming guest rooms 2/4 pers. in a house in the center of Vaison and 500m from the Roman Theatre - Air conditioning - Swimming Pool
Holiday rentals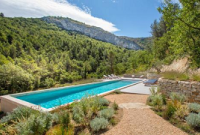 Superb private Provencal villa, 7 bedrooms, 45 hectares of nature in the heart of Vaucluse near Vaison-la-Romaine, pool.