Rochebrune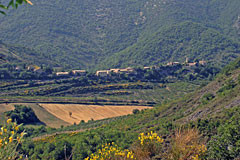 When you turn onto the delightful little lane climbing its way up through vineyards and cherry orchards, take our tip: stop your car at the side of the road, at the point where you have an exceptional view of the village of Rochebrune, sitting on its grassy ridge.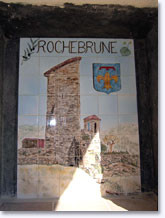 Doubtless you'd like to sit on a bench and contemplate this heavenly landscape of wooded hills, sprinkled with strips of grey rock laid bare by erosion and brightened by yellow splashes of broom.
At the entrance to the village you'll find a brand new car park overlooking the valley.
It's an ideal place to start your visit of this marvellous village perched up high, where a welcome cooling breeze blows in the summer.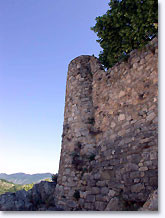 Along its cobbled streets you'll discover a neat, flower-filled village, beautifully maintained and restored, where old stones are combined with old Roman roof tiles in perfect harmony; pastel blues, greens and browns, little gardens enclosed by low drystone walls where succulents grow in terracotta jars...
Now climb right up to the top of the village, following a lovely gently sloping cobbled pathway, to admire the church and the uninterrupted view of this protected paradise, lulled by the singing of the cicadas.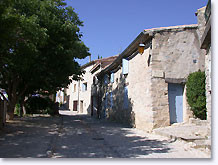 Rochebrune has everything to satisfy even the most demanding visitor: authentic beauty, quality of life, air of intoxicating purity ...
What to see
Perched medieval village (12th century).
Tower of the former castle.
Church (11-15th century)
Leisure activities
Mountain biking / Cycling.
Climbing / Rock-climbing.
Air sports.
Accomodations
Gites. Holiday rentals.