'; //-->
Sainte Euphémie sur Ouvèze
Departement of the Drome - Provencal Drome - Pop.: 100 inh. - Altitude : 565 m.



Between Buis les Baronnies and Séderon on the D546.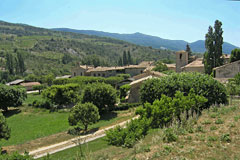 At Sainte-Euphémie-sur-Ouvèze, you're in the "country of apricots, the orange of Provence".

From a distance this peaceful village spreading out on the banks of a river displays a beautifully harmonious blend of beige stones and Roman roofing tiles.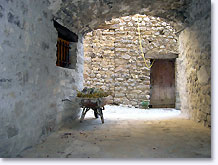 From close up, the medieval atmosphere will enchant lovers of beautifully restored ancient buildings. Sainte-Euphémie-sur-Ouvèze is neat, tidy and well maintained, bathing in perfect serenity that seems to be particularly sought after by English and Dutch visitors looking for sunshine.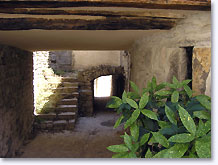 As you walk along its charming shady peaceful cobbled alleyways, you'll admire a vaulted passageway, some stone archways supporting ancient houses, little fountains... and everywhere is this superb stonework, brightened by lavender blue shutters, overwhelmed by beautiful vegetation, rose bushes and virginia creepers.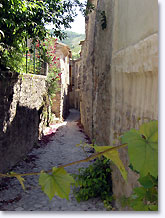 The church is recent but beautifully integrated into its setting, surrounded by little gardens and shaded by fruit trees, limetrees, cypresses and poplars...

Founded by the Knights Templar, the village of Sainte-Euphémie-sur-Ouvèze was sold to the Grimaldi de Monaco par Louis XIII as compensation for the loss of the Kingdom of Naples. If it was not for the French Revolution, Sainte-Euphémie would still be a part of Monaco.

Don't leave Sainte-Euphémie without tasting the locally-produced honey, to cherish a sweet fragrant memory of this wonderful provençal village !




What to see:
14th century fortified village.
Protestant church.


Leisure activities:
Walks near the river to the South.
Fishing.


Accommodation:
Hotel in Saint Auban sur l'Ouvèze.


Neighbouring towns and villages:
Vercoiran (3km), St Auban sur l'Ouvèze (5km) and Buis-les-Baronnies (11km).