'; //-->
Suze la Rousse
Departement of the Drome - Provencal Drome - Pop.: 2,000 inh. - Altitude : 100 m.



8 km from Bollène via the D94 and D994 or 5km from Rochegudevia the D94 and D117.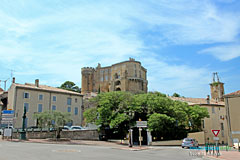 Towering over the 16km² of vineyards that produce the well-known "Côtes du Rhône" AOC wines, the enormous imposing mass of the Suze-la-Rousse château is visible from a great distance, and is remarkably well-preserved.

From close up you can admire the great towers and machicolations of this castle, looking as if it had come straight out of a fairytale.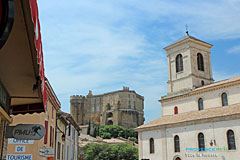 Once in the village, you'll have just one aim: to climb up towards these formidable great walls built from huge blocks of strong yellow and grey stone.

It's easy to find the path; just follow the steps through a beautiful park planted with holm oaks, parasol pines and maple trees ... and giving off the fragrances of Provence, lavender, figs and roses.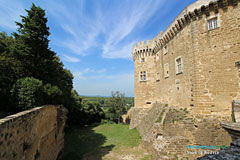 The gigantic defensive walls embedded in the ochre-coloured rock are surrounded by a ditch that is crossed by means of a bridge in order to enter the castle.

The castle of Suze-la-Rousse is quite rightly listed as a Historical Monument. In medieval times it was owned by the Princes of Orange then for six centuries was the property of the Baux family.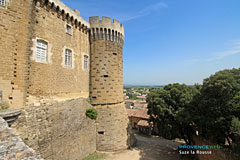 During the Renaissance a courtyard decorated in the Italian style was added, built on arcades, contrasting with the austere appearance of the exterior.

On the second floor, the Wine University comprises a training centre and above all... a tasting area. Also, at the foot of the castle there is a "vine garden" where you will be intoxicated by grape varieties from all over the world !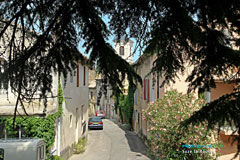 To descend once more to the village you can take streets with picturesque names - l'Escuraille and l'Armourie - where you may be greeted by the locals.

From below, wherever you are the enormous mass of the castle imposes itself, towering over the peaceful village, its little shops and cafés, its main street and church.

Note: the Renaissance façade of the Mairie and the former wheat market.


What to see:
12th century castle, Renaissance courtyard.
Open to visitors: every day , except Tuesday from 1st November to 31st March.
Guided tours: from 9.30 to 11.30 am and from 2 to 5.30 pm, 6 pm in July/August.
Vine garden.
Saint Sébastien chapel, campanile.
Wine University (second floor of castle):
private organisation dedicated to vines and wine, consisting of a training centre, a tasting and documentation centre and laboratories.
St-Turquat Romanesque chapel.


Leisure activities:
Hiking.
Cycling. Horse-riding.
Golf. Tennis. Petanque.
In July: Music Academy at Suze Castle.
In August: 1st weekend: Fête de la Bourgade (dance + fireworks).
In October: 2nd weekend: Fête des Vendanges wine harvest festival.


Accommodation:
Hotels.
Bed and breakfast.
Gites and holiday rentals.
Campsite.