Discover lavender in Provence
The Lavender Route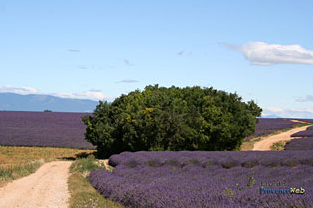 Let the lavender route be your guide and discover Provence in blue and purple.
The Lavender Route covers parts of the Drôme, Vaucluse and Alpes de Haute Provence regions.
It passes through some superb little villages surrounded by hills and plateaux bathed in sunshine, where the lavender leaves its fresh scent in the wind... make the most of it!
In summer, the region celebrates lavender, distilleries open their doors, flower corsos are organised and on the big day, floral floats parade proudly through the fragrant streets of the town. Producers display honeys, essential oils, eau de toilette, soaps and dried flowers.
A craft fair often joins in the fun, teasing your taste buds with goat's cheese, olive oil, local ham and freshly baked bread.
Take the lavender route at the best time, just before the harvest period, i.e. from the beginning of July to the end of August... be careful, if the season has been dry, the harvest may be brought forward...

Where can I find lavender?
The main lavender-growing areas in the Provence Alpes Côtes d'Azur region are :
the Pays d'Apt and the Luberon (Vaucluse)

the Sault and Ventoux regions (Vaucluse)

Pays de Forcalquier and Montagne de Lure (Alpes de Haute Provence)

the Digne area (Alpes de Haute Provence)

the Verdon region and the Valensole plateau (Alpes de Haute Provence)
The different varieties of lavender:
There are three types of lavender that grow naturally in Provence. The most widespread is lavandin:
It grows naturally or in cultivation on the dry hills between 600 and 1500 metres. Highly resistant to changes in temperature, it produces a refined essence that is highly prized for its aromatic qualities. Fine lavender is mainly produced and used for perfumes and cosmetics. The yield is 15 to 20 kg of essential oil per hectare.
It grows wild and spontaneously at altitudes of between 600 and 800 metres. Its highly camphorated essence is less appreciated in perfumery.
This hybrid species is a cross between true lavender and aspic and reproduces only by cuttings. Lavandin is sought after and grown for its resistance and high yield: 70kg to 150kg per hectare. It is the lavender most commonly planted in the gardens of Provence. There are several varieties of lavandin (grosso, abrial, super, etc.). Lavandin accounts for 90% of crops and is without doubt the most widely used lavender, notably for soaps, washing powder and industrial perfumes.
Lavender festivals
As you can see from our pages on Provençal festivities, there are many lavender festivals in Provence.
In summer, corsos, festivals and lavender fairs punctuate the lavender season. July and August mark the end of the harvest, and the festivities begin.
IN THE ALPES DE HAUTE PROVENCE :
Riez: Second half of July, lavender festival
Valensole: Every year in the second half of July
(usually the 3rd Sunday in July)
Digne: Lavender parade: early August
Lavender Fair: 2nd half of August
Thorame-Haute: Lavender Festival: normally the 2nd weekend in August except this year it will take place on 2 and 3 August 2014
Esparron sur Verdon: 15th August: lavender festival.
(Every year mid-August)
IN THE VAUCLUSE :
Sault: 15 August: Lavender Festival with cutting competition, floral floats.
Valréas: Lavender parade with floats and folk entertainment. Every year on the first weekend in August
Visits to lavender distilleries and lavender museums
Visiting a lavender distillery or a lavender museum is a highly instructive experience and a must in Provence for lovers of fragrance and tradition.
Here are just a few possibilities:
PAYS DE FORCALQUIER AND MONTAGNE DE LURE :
Le Revest Des Brousses
Guided tour of the 6-hectare Parc des Senteurs, home to organically-grown lavender, perfume and medicinal plants.
Forcalquier
The tourist office organises a lavender tour, with a hot-air balloon flight over the lavender fields...
Mane
In a 12th-century priory, the ethnological conservatory and research centre offers tours of the perfume and medicinal plant gardens, which contain 6,000 species of plants.
Simiane la Rotonde
The region's perfume plant producers' cooperative, selling essential oils.
VALENSOLE AND VERDON REGION
La Mure-Argens
Ferme Bleu d'Argens : Production of aromatic and medicinal plants (online sales, on-site sales by appointment) and tours of the farm on Thursday mornings by appointment, sensory games and tasting.
Puimoisson
La ferme Cotta: visit to the farm and distillery demonstration on site.
Valensole
The tourist office organises guided tours on the theme of lavender in July and August.
DIGNE COUNTRY
Digne
The Cordeliers botanical garden brings together medicinal, aromatic, vegetable and ornamental plants in a former medieval convent. The tourist office offers tours of lavender-growing sites in the Asse valley.
Champtercier
The Parc Rural Paysager des Champs de Provence features a range of regional plantations as well as a distillery, a sheepfold, an aviary, a dovecote... and an open-air theatre. Provencal cuisine available on site.
COUNTRY OF SAULT AND VENTOUX
Sault
Sault producers' cooperative house. Exhibition and sale of products.
Lavender garden. Guided tours of the botanical garden and greenhouses. Plants for sale.
The tourist office organises 7 guided tours around lavender.
COUNTRY OF APT AND LUBERON
Lagarde d'Apt
Distillery with on-site product sales.
80-hectare lavender farm with walking trail and distillery.
Cabrière d'Avignon - Coustellet
Lavender museum, still exhibition, distillation and cutting processes. Shop on site.
BOUCHES DU RHÔNE
Graveson
The museum of aromas and perfumes is located between Arles and Avignon in a restored 19th-century farmhouse. The principle of distillation is presented, along with stills, essenciers and old perfume bottles.