'; //-->
Cabrières d'Avignon
The Vaucluse Departement - Luberon Nature Park - Population : 1,779 inh.



Between Gordes And L'Isle sur la Sorgue.


Located in the heart of the dry stone country, Cabrieres d'Avignon is an extremely charming picturesque village, which has been able to maintain all of its authentic character.
Take a walk down the village streets and you'll discover the tastefully restored, ancient, rustic dry stone houses.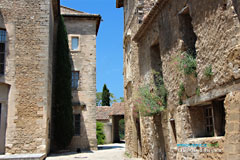 In the neighbouring countryside you can find numerous "bories", sort of ancient peasant's houses which, in the main date from the XVIIth and XVIIIth centuries.
Some have been transformed into sumptuous country holiday homes.


There is a pretty walk along the famous but sad "Plague Wall" built to protect the residents of the Comtat from the Marseille Great Plague in 1720.
From Cabrieres, the walk will take you as far as the East of Methamis.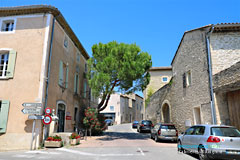 There is also a magnificent 5 hectare cedar tree forest planted in 1860.
Shady, cool places, just right for those hot summer days and perfect for nature lovers.






What to see:
The Plague Wall (mur de la peste).
XIIIth Chateau.
Lavender Museum at Coustellet


Leisure activities:
Hiking. 5 hectare cedar forest.
Cinema. Seasonal events.


Accommodation:

Hotels.
Bed and breakfast.
Holiday rentals.


Neighbouring towns and villages:
Lagnes (4 km), St Pantaléon (6 km), Gordes (7 km) and L'Isle sur la Sorgue (13 km).