Le Thor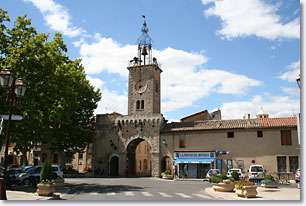 Le Thor is a small town on the banks of the Sorgue, in the heart of the Monts de
Vaucluse
.
This Comtat Venaissin settlement was probably founded in the 7th century. Today it boasts some remains of its past that are worthy of your attention...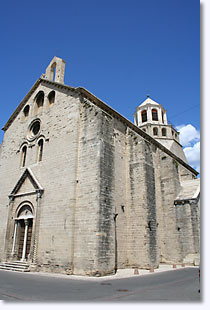 The church of Notre Dame du Lac has been watching over the town since the 12th century. It retains all of its original character and has beautifully sculptured main doors.
It is entirely romanesque, and its single nave is spanned by the most ancient gothic arches in
Provence
.
Strolling through the streets of Le Thor, you cannot miss the medieval château , which was restored in the last century.
You will also discover a monumental gate in its ancient ramparts. It is crowned with the town clock and a wrought iron campanile. This gate, or to be precise this belfry, dates from 19th century..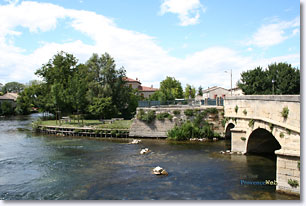 There are some really beautiful walks in the vicinity of Le Thor, (many hiking trails start out from here). In particular, you will be able to take a walk to Thouzon hill which is capped by the remains of a chateau and a chapel.
To get there, simply follow a little road on the west side of the village that leads to a hill covered with scrubland overlooked by the white ruins of the convent buildings..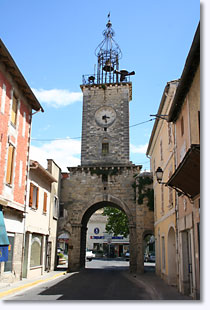 3 km away on the D16, you can also visit the Thouzon cave, a natural underground cave dating back to the Cretaceous period.
The guided tour will lead you along a narrow path which is in fact the fossilised bed of what was once an underground river.
You will be amazed at the sight of the very thin stalactites. The cave is two hundred and thirty metres long and was discovered by chance in 1902 by quarry workers.
It is the only natural cave in the
Vaucluse
open to the public.
Leisure activities
Tennis, horse riding, canoe-kayak, fishing.
Walking, mountain-biking.
Bed and breakfast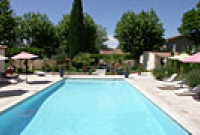 Bed & breakfast - 5 charming guest rooms on the ground floor with separate entrance and private terrace with park view, quality bedding 180cm, fridge Heated pool - Chef's table for lunch and dinner - 4000m² park
Holiday rentals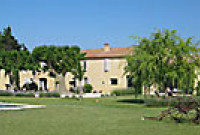 Large vacation rental 12 people in a 17th c. carefully renovated house. 6 spacious bedrooms, 6 bathrooms, 2 living room, office, semi professional kitchen. 17m overflow sw.pool. 2.46 acres private park. Automatic gate.
Accomodations