L'Isle sur la Sorgue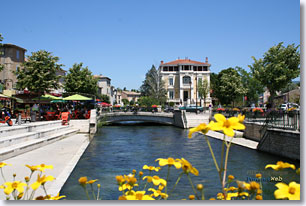 L'Isle sur la Sorgue is one of those places in
Provence
that one has to see. This "island city" lies at the foot of the Vaucluse plateau in the plains of Comtat Venaissin..
The "bargain hunters", lovers of beautiful objects, flea markets and art galleries will be delighted, there are indeed nearly 300 antique dealers in this small town!
Its colors are nature's green and the bright reflection of the water shining from the several canals running through its center.
The river Sorgue surrounds the city as if to hug it..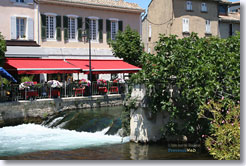 Walking along the canals you will notice how they run between the narrow ancient streets.
There are little bridges to cross and great wheels to look at with mossy blades turning in the river.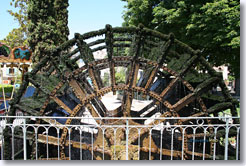 Do not miss the spectacle of "Partage des eaux" located 1 km upstream from the city, where the river splits in two and forms a shaded body of water in which plane trees and generous greenery are reflected ... Formerly, the inhabitants lived mainly from fishing (up to 15,000 crayfish per day!), the large paddle wheels served as the "engine" for many silk factories from the 18th century, then paper in the 19th century. Some wheels still work, but for the pleasure of passers-by ...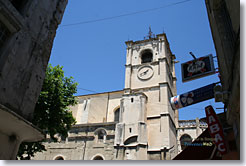 History has left its mark on L'Isle sur la Sorgue and points out its importance in Comtat Venaissin in the 14thc.
The Collegiate church Notre Dame des Anges has an exceptional Baroque interior and the 18th c. hospital pharmacy boasts a rare collection of
Moustiers
faience.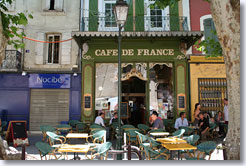 Also, magnificent mansions have been converted into art galleries, in particular the famous Maison René Char -
Hotel Donadei de Campredon
(18thc.), now a museum exhibiting such great artists as Miro, Mauguin or Dufy and a display area dedicated to
Rene Char
.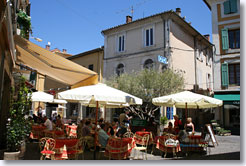 L'Isle sur la Sorgue is today internationally renowned for the large number of antique dealers spread over the city (open especially on weekends) and for the numerous art and painting galleries. Twice a year, at Easter and August 15, more than 500 antique dealers and second-hand dealers meet here to present their treasures to customers from all over the world ... this fair is enough to make you dizzy, including to enlightened connoisseurs.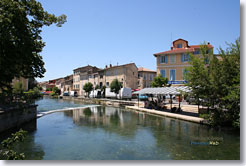 In short, you will understand, L'Isle sur la Sorgue really deserves your detour ... and to better immerse yourself in its unique atmosphere, leave your car in the parking lot and take a stroll, you will only appreciate better its many charms.
What to see
Notre Dame des Anges. Hospital's 18thc. pharmacy.
The old granary (premises of the Tourist Office).
Maison Rene Char - Hotel Donadei de Campredon (art museum and gallery).
The 6 antique villages within the town.
Leisure activities
Market on Thursday and Sunday mornings.
Hiking. Horseback riding.
Swimming pool. Tennis. 18 hole golf course.
Fishing. Kayaking.
Various cultural events.
Bed and breakfast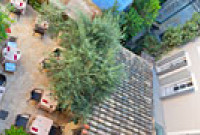 5 guest rooms cozy - Restaurant in a courtyard in summer, close to the fireplace in winter - Wine bar waterfront - Jacuzzi outside
In the heart of the antiques city
Campings
Camping La Sorguette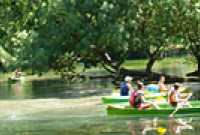 Green Key certified campsite, on 2.5 ha preserved and listed nature along a river. 100m² wooded site with electricity, mobile home 2/6 pers with wifi and terrace. Tree house, yurt, lodge tent. Snack bar, kids club, activities
164

/ 30