Saint Tropez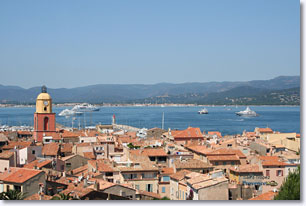 International tourist mecca, St. Tropez's mythical tame has played a largepart in the renown of the whole
French Riviera
.
In St. Tropez everything is famous:
- Beaches : Bouillabaisse Beach, Caneliers Beach, Salins Beach,
Pampelonne
... there are at least 40 on the peninsula.
- There is the Place des Lices where movie stars and local stars get togettier to play a game of
boules
or sip Pastis under the plane trees. Everybody, of course, wears their leather "
Tropeziennes
" sandals.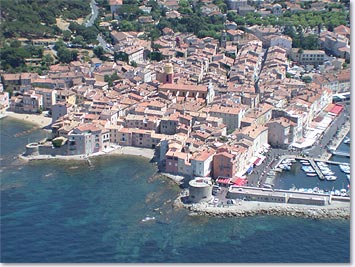 St. Tropez became "
St Trop
" when the show business people, artists and writers all fell under the spell of this charming little port in the 1950's.
In the summer one could bump into Picasso, Francoise Sagan Jacques Prevert and many others. With the arrival of Brigitte Bardot in the 6O's the myth was installed for good.
Since then St. Tropez has become the
in
vacation spot for chic Parisians and the international
Jet Set
.
The nightlife is very lively, several private parties are held each evening in the luxurious villas of the gulf where some of the guests arrive by helicopter to avoid traffic jams.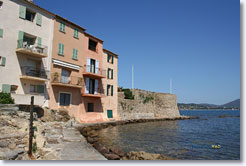 People watching is a favorite sport here in the summer. Visitors like to sit at the outdoor cafés hoping either to be seen or to see some one else. Competition is rife. Huge yachts line up in the port rivaling to see which is the biggest, the prettiest, the best kept, or has the snappiest crew.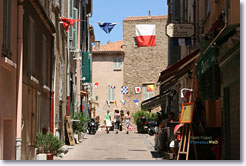 If you have the choice, prefer the months of May, June and September to enjoy St Tropez. Without the crowds, old St Tropez will reveal itself with its charming little alleys and flowers in warm colors...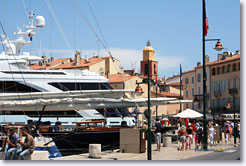 Early in the morning, Place aux Herbes offers vegetables, fruit and flowers next to the marina where some fishermen live who sell their fish on the market, not far from the famous breweries "
Le Gorille
" and "
Senequier
".
A typical Provencal market is held every Tuesday and Saturday morning in the Place des Lices.
Religious and festive processions called "
Bravades
" are lively celebrations which begin in May and continue until the 15th of June.
What to see
Annonciade Museum (Paul Signac, Braque, Matisse, Utrillo, Van Dongen, Bonnard, Dufy).
The butterfly house.
The old port. Place des Lices.
Rue Gambetta.
Place des Ormeau.
The 18th c. church and bell tower.
Leisure activities
Water sports.
Tennis. Squash. Golf.
Horseback riding.
Hiking along the coast.
Night clubs.
Holiday rentals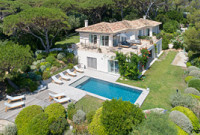 Dream holidays in the Gulf of Saint-Tropez ... Rental of luxury villas, yachts, hotels and prestigious cars in Saint-Tropez. Our 7/7 concierge service and our Côte d'Azur experts at your service