Departement of Var - Population: 5.542 h - Surface: 1.118 ha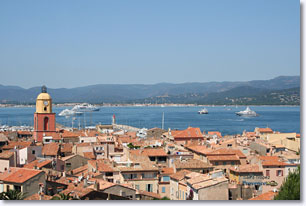 International tourist mecca, St. Tropez's mythical tame has played a largepart in the renown of the whole Côte d' Azur.

In St. Tropez everything is famous :
- Beaches : Bouillabaisse Beach, Caneliers Beach, Salins Beach, Pampelonne Beach... there are at least 40 on the peninsula.
- There is the Place des Lices where movie stars and local stars get togettier to play a game of boules or sip Pastis under the plane trees.

Everybody, of course, wears their leather Tropéziennes sandals.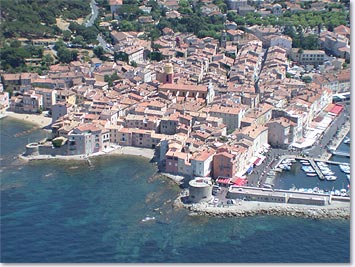 St. Tropez became "St. Trop" when the show business people, artists and writers all fell under the spell of this charming little port in the 1950's.

In the summer one could bump into Picasso, Francoise Sagan, Jacques Prévert and many others. With the arrival of Brigitte Bardot in the 6O's the myth was installed for good.

Since then St. Tropez has become the in vacation spot for chic Parisians and the international Jet Set.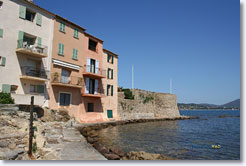 People watching is a favorite sport here in the summer, Visitors like to sit at the outdoor cafés hoping either to be seen or to see some one else. Competition is rife. Huge yachts line up in the port rivaling to see which is the biggest, the prettiest, the best kept, or has the snappiest crew.

Only beautiful people hop on board. It is quite a spectacle for the casual visitor !... .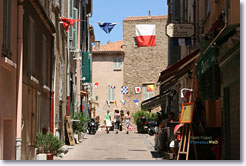 St. Tropez's true nature can really only be appreciated in the off months.

If you have the choice come here in May, June or September, without the crowds one can take the time to admire the charming little streets and alleys.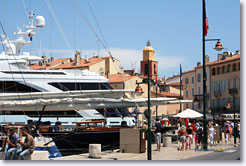 Early in the morning at the Place aux Herbes one can find fruit vegetables and flowers and watch the local fishermen selling their new catch.

This is also the neighborhood of the famous brasseries Le Gorille and Sénéquier.





A typical Provengal market is held every Tuesday and Saturday morning in the Place des Lices.
Religious and festive processions called "Bravades" are lively celebrations which begin in May and continue until the 15th of June.


What to see:

Annonciade Museum (Paul Signac, Braque, Matisse, Utrillo, Van Dongen, Bonnard, Dufy).
The butterfly house. The old port.
Place des Lices,Rue Gambetta.
Place des Ormeau. The 18th c. church and bell tower.

Bed and breakfast
Saint Tropez (Golfe St Tropez) -

Bed & breakfast - 4 comfortable guest rooms with private terrace
in a large villa with outdoor swimming pool and flowered garden