Crots
Discover the hidden secrets of Crots village
Population : 672 inh. - Altitude : 790 m.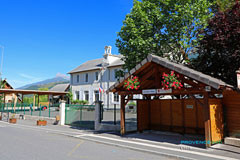 Its name is derived from "Las crottos", meaning cellars in Provençal.
Although at first sight there is nothing remarkable about the village of Crots - except that it is in a peaceful spot and benefits from the dry, sunny climate of the Hautes Alpes department - it in fact has two marvellous treats in store for the vistor - a château and an abbey - which are definitely worth a look.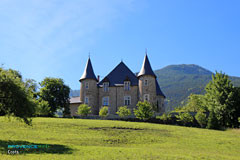 The Picomtal Castle was built by the lords of Embrun in the 12th century. Initially it was a simple wooden keep, but it was subsequently extended and restructured over the centuries, up to and including the Lousiana style verandah added in the 19th century.
It was bought in 1998 by Jacques and Sharon Peureux, and after 5 years of restoration work, during which heating, electricity and a lift were installed, it is now in perfect condition.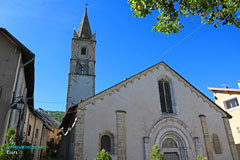 Flanked by its four massive towers with pointed roofs, overlooking a French-style garden built from scratch by the owners, and surrounded by vast lovingly maintained grounds, it is not open to visitors - except on national heritage day on 21st September, but is rented out for seminars, conferences, weddings, etc. There is nothing to prevent you considering spending a night in one of its nine bedrooms with their wonderful romantic atmosphere.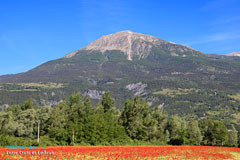 Also at Crots, at the heart of a dark high altitude fir forest called the forest of Boscodon, stands the "Abbey of Boscodon".
Nine centuries ago, in 1132, a group of hermits living in the forest founded the "Dauphinois Provençal" Order. In 1142 construction of the abbey began, a marvellous example of the Romanesque style, where monks and nuns lived in autarky, with a cellar, a forge, stables, a mill, gardens and an orchard.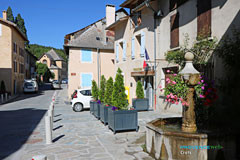 Boscodon Abbey was ransacked on several occasions, and for 200 years it became the hamlet of "Boscodon l'abbaye", where 60 people were living at the end of the 19th century.
En 1972, when only 4 inhabitants were left, the "hamlet" was bought by the Nuns of Chalais, who undertook work lasting some 25 years in order to restore the abbey, which in the meantime was listed as a Historical Monuments.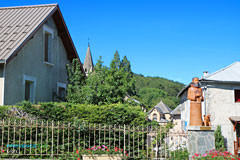 They carried out restoration of the abbey church and the Chapel, the monks' wing and the officers' wing, the belltower and the lay wing, which currently houses an exhibition presenting the construction of the abbey in the Middle Ages, illustrated by a model of the abbey as it was at the beginning of the 13th century.
A small Community of Dominican sisters still lives there today, trying to make Boscodon Abbey a "place open to spiritual life and encounters"… It's a must for visitors who want to add a spiritual facet to the cultural dimension !


What to see
Picomtal Château (12th - 16th century, 19th century decoration) and its French-style garden.
Nearby : Boscodon Abbey, municipality of Crots, listed historical monument (visits, exhibitions and conferences organised by the Dominican sisters).
Leisure activities
Cross-country skiing at Crots-La Draye: 10 km from Crots, 1530 m altitude, 35 km of runs, 12 km of Nordic routes.
10 km of waymarked paths for snow shoeing and walking, toboggan runs.
Accomodations
Hotels.
Bed and breakfast.
Holiday rentals. Gites. Furnished accommodation.
Campsites.