'; //-->
Molines en Queyras
Departement of the Hautes Alpes - Queyras - Population : 322 inh. - Altitude : 1,762 m.



26 km North-East of Guillestre via the D902 and the D5.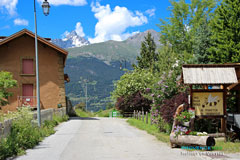 In the heart of the Queyras Regional Natural Park, din an enchanting setting, 15 km from the Italian border, Molines en Queyras is a beautiful little village with wooden houses - larch log fašades, plank balconies - typical of this region of upper Queyras - old traditional houses called "fustes" (from the Latin word "fustis" meaning a wooden beam).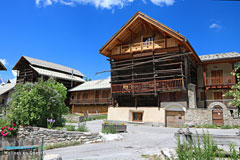 These wooden houses comprised a stable and dwelling on the ground floor with a "fustes&quot on the first floor, serving as both a barn and hayloft.

Nowadays, many fustes have been converted into modern homes, but most of them date from the 17th and 18th centuries and are decorated with picturesque sundials on their façades.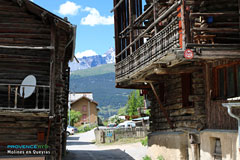 Other typical features are the wooden fountains and drinking troughs, as well as the "lord's oven" which is still in its original condition, as wellas the cheese dairies (houses where the milk was collected). These are all symbols of community life in olden times.

Just outside the village, you can admire Saint Romain church with its square belltower, which dates back to the 17th century in its present form, and houses a remarkable sculpted wooden altarpiece.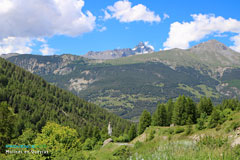 In winter, Molines shares with its neighbour Saint-Véran the skiing area of Chaine de Beauregard.

Here you can enjoy downhill skiing with the family, but above all cross-country skiing (all types of runs, from green for beginners to black for experienced skiers), as well as Alpine ski touring. In winter more than ten peaks can be reached, for those brave enough to try some off-piste skiing !




What to see:
Saint Romain church (17th century).
Bee museum: "l'bee-keeping yesterday and today".


Leisure activities:
In winter:
Downhill skiing (38 km, 15 ski lifts).
Cross-country skiing (55 km of routes), off-piste skiing.
Alpine and Nordic ski touring,sledge dogs, snow shoes.

Ice waterfall climbing.
Other nearby ski resorts: Ceillac, Aiguilles, Abriès/Ristolas, Arvieux, Château-Ville-Vieille.
In summer:
Hiking, pony-trekking.

Mountaineering, climbing.
Cycling, Mountain-biking.
Paragliding, summer toboganning, fishing, multisports pitch, archery.
Adventure park.


Accommodation:
Hotel.
Bed and breakfast.
Holiday centres.
Holiday rentals. Gites. Furnished rentals.
Hiking gites and refuges.


Neighbouring towns and villages:
Saint Véran (6km) and Château Queyras (8km).