Donzère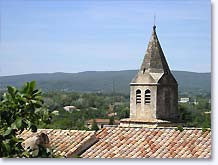 Donzère is a small Provencal town in the Rhône plain, with nothing remarkable about it at first sight. But hidden treasures are here, if you take the time to look.
First park in the large square shaded by plane trees, and then walk up the main semi-pedestrian street, through an old gate which was once the entrance to the fortified settlement.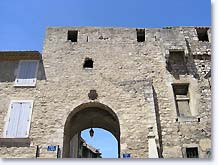 All that remains of the medieval defensive walls are two gates and two towers, one of which is the Tour de l'Horloge (clock tower) with a fountain beneath its arch.
As you stroll around, you'll notice many covered passageways, spiral stairs, turrets and plasterwork, a wheat measuring stone and old shop signs half erased by the passage of time.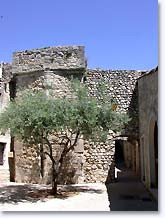 To fully appreciate the charms of Donzère, you'll have to walk a little further up to the path round the battlements, which overlooks the village and gives you a fascinating view: from up there you have a splendid uninterrupted view of the Roman tile roofs, and also the remains of the feudal castle of which only a few ruined walls and arches remain, as well as the church's fine Romanesque belltower.
You'll realise that Donzère has been inhabited for a very long time indeed when you find yourself contemplating certain remains dating back to … the Bronze Age !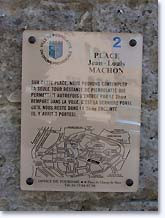 This lively little town has plenty of shops and several schools. Donzère can also take you on a journey back in time, thanks to its little museum of Provençal traditions and arts, housed in a 15th century building: for lovers of the local area ...

What to see
Remains dating from the Bronze Age to the early Middle Ages.
15th – 17th century houses.
15th century castle (front and roof, fireplaces, plasterwork).
Remnants of the 12th century defensive walls (two gates, L'Argentière and La Fontaine,
and two towers, including Tour de l'Horloge with a fountain under its arch).
St Philibert church (12th century, Provençal Romanesque, 19th century façade).
Wheat-measuring devices (16th century).
Archaeological and Historical Museum of the Friends of old Donzère,
museum of Provencal art and traditions, open on Wednesdays from 2.30 to 4 pm except during school holidays.
Leisure activities
Swimming. Canoeing. Fishing.
Gliding, Hang-gliding, Light aircraft.
Horse-riding. Mountain-biking. Tennis.
Hiking. Golf. Leisure centre.
Market on Saturday.
Nearby : Gorge of the Ardèche, Provence markets, truffle producers, crocodile farm, nautical centre, etc….
Accomodations
Hôtels.
Bed and breakfast.