'; //-->
Vinsobres
Departement of the Drome - Provencal Drome - Pop.: 1,200 inh. - Altitude : 300 m.



9 km from Nyons via the D94.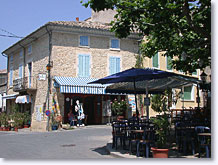 The village of Vinsobres is built on a hill, standing quietly amongst cypress, olive and cherry trees, and is a beautiful sight from a distance, topped by its Priory.

At its feet stand a bar under a vine arbour and a large church whose walls are built from round pebbles. In fact a large number of Vinsobres houses also have walls built from round pebbles, of a wonderfully beautiful yellow ochre colour.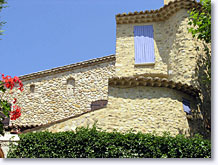 Add to this the lavender blue shutters and the old beige and ochre roof tiles and you can imagine how peaceful and enjoyable it is to lose yourself in the narrow shady streets of Vinsobres, while envying somewhat those secret gardens and terraces protected by low walls and giving off the fragrances of Provence.

Don't hesitate to climb right up to the church, which is an unadorned square Priory dating back to the 12th century, standing proudly at the top of the village.

From there you have an unbroken view of the plain and its vineyards.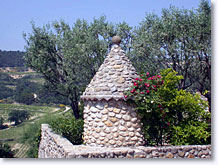 The village's name probably originates from the Latin words "vin sobris" or "vin sobrio" meaning "wine and work" and indeed it is completely devoted to the making of wine.

Vineyards occupy 1,800 hectares of land - representing half the municipality's total area - and produce red, white and rosé wines known since 1957 under the "côtes du Rhône village" AOC.


Connoisseurs will tell you the reds have "a dark colour with purplish red tints, the rosés have a bold strawberry colour with hints of beetroot, and the whites are an intense straw yellow colour".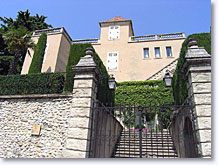 In the mouth: "the reds are quite powerful, but remain fresh and balanced with a slightly tannic base, long in the mouth. The rosés are light and generous and the whites are harmonious, long in the mouth and fruity.".

The village is on a hill. Its land produces a sweet sharp win.

VWhether it's "Vin Sobre" or "Sobre Vin", drink it soberly" his Lordship the Archbishop of Vaison is said to have remarked … in 1633!




What to see:
Roman bas-relief (at the wine co-operative cellar).
Remains of the ramparts (15th/16th century fort).
Château de Vérone, Roman mosaic in the chapel.
12th century church.
Numerous wine cellars and estates.


Leisure activities:
Hiking.
Festival of vines and wine (Saturday following Ascension).
The Wine Harvest Banns (1st Sunday in September).


Accommodation:
Bed and breakfast.
Rural and municipal gites ruraux.
Holiday rentals.
Restaurant.


Neighbouring towns and villages:
Mirabel-aux-Baronnies (5km), Nyons (9km) and Valréas (12km).