'; //-->
Serres
Departement of the Hautes Alpes - Buech Valley - Population : 1,204 inh. - Altitude : 662 m.



40 km South-West of Gap via the D994. At the crossroads of the Two Suns Road (N75 - route des deux soleils ) and the Les Baronnies road (D994 - route des baronnies).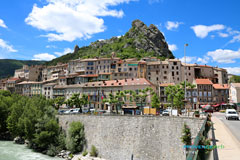 Today Serres is a large village built in a semi-circle at the foot of rocky outcrop.It is now Provençal, but once belonged to the Kingdom of Naples, became part of the Dauphiné in 1298, and witnessed confrontations between Catholics and Protestants.








The 12th century Romanesque church and the remains of the towers and walls of a 14th century fortress date from medieval times, when Serres was a stronghold protected by defensive walls.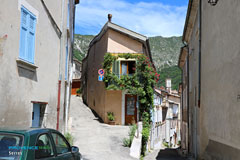 It's an exciting old town to discover. Take the stairway that climbs up a steep slope, passing a square tower with a clock, the remains of a "Guire portal" dating from 1556, and then you'll find yourself in the main street.

Take time to explore the sloping alleys, covered passageways and side streets.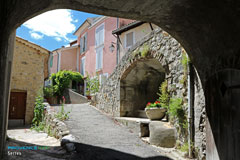 his marvellous journey into the past will enable you to admire some wonderful historical monuments such as the Lesdiguières mansion, which once belonged to François de Bonne, a duke, Marshal and supreme commander of the French armed forces in the 17th century, presenting a superb blend of baroque frontage and Renaissance windows.





As you wander down the alleys, you'll come across a little 12th century church built in the Provençal-Romanesque style, while the most courageous amongst you can climb right to the top of the old town, taking the Fades footpath, to discover the delightful Bonsecours chapel, a Jewish tomb (14th century)… and a marvellous view over of the Roman-tiled roofs of Serres, with the lovely vallée du Buëch valley in the background !




What to see:
The Lesdiguières mansion, a historical monument.
Church of St Arey.
Barrillons Chateau.


Leisure activities:
Hiking.
Equestrian centre.
Mountain bike circuit.
Bathing. Fishing.


Accommodation:
Hotels-restaurants.
Bed and breakfast.
Gites. Holiday village. Furnished rentals.
Campsites.


Neighbouring towns and villages:
Laragne-Montéglin (17km), Veynes (18km) and Rosans (24km).