'; //-->
Saint Pantaléon les Vignes
Departement of the Drome - Provencal Drome - Pop.: 350 inh. - Altitude : 250 m.



5 km from Valréas via the D941.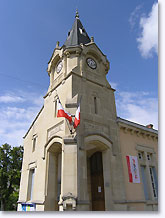 As its name indicates, vineyards surround the beautiful residential village of St-Pantaléon-les-Vignes stretching out peacefully on the vast plain, on the banks of a small river.

Here you will find superb beautifully restored Provencal farmhouses, with little gardens protected by low stone walls, and often shaded by beautiful old trees, pines, firs and limetrees.

We must not forget of course the lovely church built from undressed stone with its Romanesque belltower...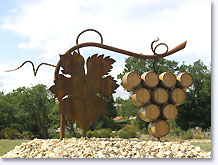 But if you visit St-Pantaléon-les-Vignes, let's be honest, above all it's for the village's wine, cellars and wine-tasting, a cottage industry publicised by enormous barrels placed in the fields as decoration along the roadside.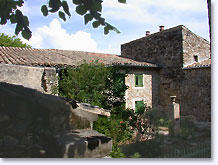 The local wine-makers' association is very active and has laid out a waymarked footpath through the vineyards of St-Pantaléon-les-Vignes and Rousset-les-Vignes enabling you not only to taste the local wine but also to admire the beautiful typically Mediterranean hills.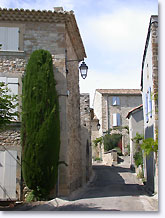 As for this famous "nectar of the Gods", you should know that both red and rosé have been harvested here for centuries, on an argilo-calcareous soil and were classified in 1969 as Appellation d'Origine Contrôlée "Côtes du Rhône Villages".

The reds have a "bold colour, purple when young, with a fruity bouquet and a firm body", while the rosés "have a bright rosy colouring, a delicate silhouette, a slightly fruity taste".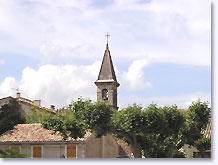 The reds keep very well in a cellar for ten years, and make poultry a dish fit for a king. The rosés should be drunk young and served chilled, and go perfectly with cold and grilled meats.

To be tasted in moderation... to appreciate their qualities all the more !




What to see:
Wine-tasting cellars.


Leisure activities:
Hiking, cycling.
Secondhand markets and flea markets (1st May).


Accommodation:
Bed and breakfast.
Holiday rentals.
Gourmet restaurant.


Neighbouring towns and villages:
Valréas (5km), Rousset les vignes (5km), Nyons (10km) and Grignan (14km).