Tarendol-Bellecombe
19 km from Saint May via the D94 then by the D162.
The name of Tarendol Bellecombe originates directly from the Middle Ages, when the site belonged to several Lords: Bellecombe, Pennafort, Tarendol.
Today, Tarendol is a hamlet located a kilometre upstream from the village of Bellecombe, which is reached via Col de Soubeyran.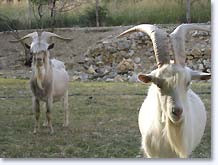 The farm belonging to René Barjavel grandfather, made famous in René Barjavel's novel as Françoise's farm, was probably located on the little square of today's hamlet.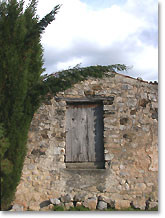 Surrounded by blue marl hills full of ravines and apricot orchards, facing Mont Ventoux, the hamlet consists of just a few old stone-built barns and houses and a large church, set on a slope overlooking the valley.
Here the air is pure and light, and complete tranquillity reigns.
During your visit you may meet some goats, horses, pigs and hens... and perhaps a few hippies. The village's main centre of activity is the Les Garelles farmhouse inn, which serves as a gîte for horse-riders and cyclists.
What to see
Ruins of the Château of Pennafort (some distance from the village).
Oratory of Saint-Laurent.
Cemetery where René Barjavel is buried.
Leisure activities
Horse-riding and hiking..
Climbing (recently equipped limestone cliff today providing roughly sixty different climbing routes).
Accomodations
Bed and breakfast.
Gite.