Vercoiran
Discover the ancient village of Vercoiran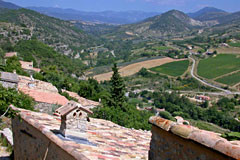 Vercoiran is a particularly ancient village. Traces of habitation dating back to the Neolithic era have been found here, as well as numerous fragments of pseudo-ionian ceramics.
Vercoiran lies on the edge of a small plateau overlooking the Gorge of the Ouvèze river. Today it is a wonderful perched village that is reached via a tiny narrow road winding its way among vineyards, fields of lavender and apricot trees.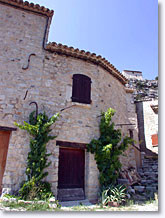 Topped by a high rocky cliff where a stone chapel stands, the village clings to the hillside, benefitting from a wonderful location up high where the air is pure and light.
After parking in the car park where a little chapel stands, walk around an enormous boulder and then follow the sign to "vieux village".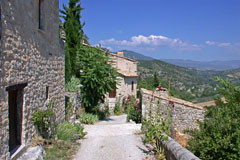 A stony path leads you into the centre of a kind of "ghost village", where there is hardly any life, apart from a few city-dwellers who have built their holiday homes here.
These authentic, sumptuous residence rescued by lovers of old buildings were probably sheep barns originally and have now been converted into charming homes, modern on the inside but still traditional on the outside.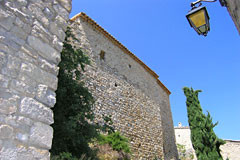 Shaded by fig trees and wild cherry trees, they all have at the least a garden and sometimes a terrace with a view of the Ouvèze valley, which from above is a marvellous plain planted with purple lavender.
How delightful it is to wander along these cobbled streets and stairways, where succulents and tufts of lavender grow. But watch out if you're wearing high heels!
The people who brought this enchantingly beautiful sunny paradise back to life deserve our congratulations!
What to see
Ruins of the castle.
Church.
Chapel of Notre-Dame des Champs (La Viste quarter).
Leisure activities
Walking. Mountain biking, cycle touring.
Horse riding. Bathing in the Ouvèze.
Nearby: Climbing. Gliding.
Accomodations
Bed and breakfast.
Holiday rentals.