'; //-->
La Chapelle en Valgaudemar
Departement of the Hautes Alpes - Champsaur - Population : 129 h. - Altitude : 1,600 m.



53 km North-West of Gap via the N85 (Route Napoléeon) and the 985A.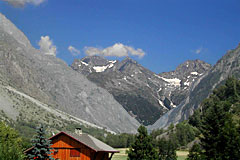 After crossing this marvellou vallée du Valgaudemar, so authentic and exceptionally protected, overlooked by the prestigious summits of Olan and Les Rouies, and then driving for about fifteen kilometres along the banks of a sparkling trout river, you'll arrive at La Chapelle en Valgaudemar, a large mountain village, very lively and bustling in summer, brightened by the splashing of a tumultuous mountain stream.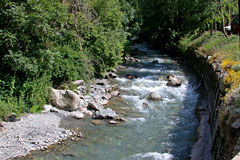 The village is built on a cultivated plain meeting high rocky walls above which tower peaks covered with eternal snows. .La Chapelle en Valgaudemar is a scattering of wooden or grey stone chalets with wooden balconies decorated with flowers, and its shingle or lauze roofs typical of mountain villages.

"Kill time or live for the moment" is the wise saying inscribed on one of the numerous sundials fixed to the façades.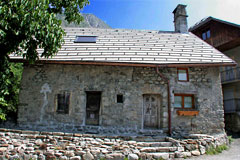 People interested in the wonders of nature should visit "Les Oules du Diable", a gorge at the bottom of which is a foaming mountain stream, or should simply take a look at the majestic Gioberney Cirque with its towering peaks and sparkling glacier.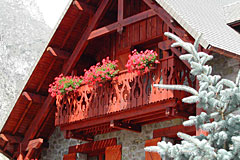 Gourmets will no doubt want to taste the home-made "tourtons" from the Champsaur area, fritters of very thin pasta, with potato purée, spinach or goat's cheese inside, unless they prefer them sweet, eaten cold, with stewed prunes or apple compote inside.

We mustn't forget ravioles, little fritters made from potatoes and cheese, traditionally served with … liquid honey or jam. You should also try donkey's ears, spiced up with wild spinach, a plant so-called because the leaves look like pointed ears.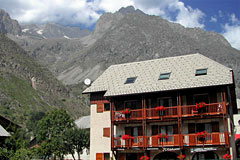 Once replete, you can then leave this enchanting valley, making sure you don't forget to stop at Saint Maurice en Valgaudemar. Here you will be able to contemplate a marvellous Lombardic Romanesque church, from the side of the road (D985A).

Built between the 11th and 12th centuries by the monks of Cluny, it has a stone belltower raised in the 15th century, and a typical mountain style lauze roof with flat files. Right next to it, take time to admire the majestic limetree.

It is three centuries old and was planted by order of one of Henry IV's ministers !



What to see:
At Saint-Maurice-en-Valgaudemar: romanesque church at the side of the road.
At La Chapelle-en-Valgaudemar :
The gorge of Oules du Diable (1,200m).
Villard-Loubière Mill (guided tours in summer).
The hamlet of Les Portes Gioberney Cirque (1,642 m).
The Village of Le Casset Tounes at the Hamlet of Chaussendents.
Lesdiguières Château ( (16th century ruins in the municipality of Glaizil).

Leisure activities:
Winter:
Nordic skiing at Saint Maurice (12 km, 3 runs) and La Chapelle (20 km, 4 runs).
Mountain races.
Acrobatic routes in the forest.
Downhill skiing at Saint Firmin (2 ski lifts - 4 runs - 4 km).
Ice waterfall climbing.
Summer:
Adventure Trail: 5 levels of difficulty welcoming children aged 5 and over.
High Mountain Hiking.
Climbing: climbing sites at La Chapelle, Gioberney, Le Casset, Surette, Colombeugne, Le Glaizil.
White water sports..
Horse-riding..
Tennis.
Paragliding.
Fishing.
Swimming pool (at Saint Firmin).


Accommodation:
Hotels.
Bed and breakfast.
GHiking gites. Horse-riding gite. Country gites.
Holiday rentals. Furnished accommodation.
Campsites.


Neighbouring towns and villages:
Saint Bonnet en Champsaur (33km).