Upaix
20 km North of Sisteron via the A51 and the D722 road or via the D4075 road.
Discover the tiny village of Upaix
Population : 383 inh. - Altitude : 720 m.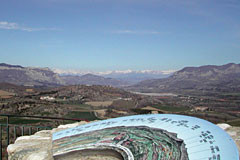 From afar, the location of this tiny little village is breathtaking, perched above the plateau of the Durance and the Buëch.
At first sight Upaix seems to be made up of modern houses, but in fact it has some beautiful medieval remains such as an old washhouse sheltered under a stone archway.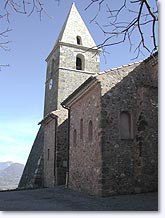 The small Provençal village of Upaix has a long history behind it. The site has been inhabited since the early Middle Ages - known then as the "castrum de Upaysio" - and no doubt before that by the Romans.
It was a seigneury belonging to the Amats, and a marvellous 14th century listed church still stands in the village.
Inside the church is a gilt altar piece bearing the arms of a bishop of Gap, and a painting from 1637 depicting the Lords of Upaix, which is an absolute must.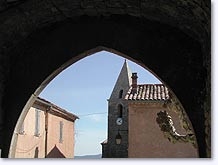 Also worth visiting, though in worse condition, are the impressive remains of a 13th century fortress, or rather a house called "Château d'Upaix" which once belonged to the Amat family, owners of the seigneury from 1637 to 1710.
Jacques Amat was Lord of Upaix in the 17th century, and among other things was secretary and maître d'hôtel to Louis XIII.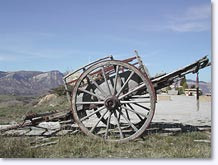 Nowadays you have to pass under the village's old gateway with its lancet arch, which was an integral part of the château, in order to discover a stairway embellished with sophisticated plasterwork decoration.
On the handrail are the coats of arms of the Lord of Upaix, surrounded by horns of plenty bursting with fleshy fruit.
Also to be admired are some joist ceilings and fireplaces.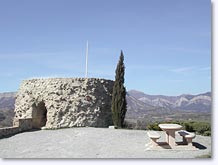 You can end your visit by climbing up onto the mound at the top of the village, where the ruins of an ancient tower can be seen. You can climb up the tower and from the orientation table at the top you will have a 360° panoramic view of 120 surrounding municipalities.
To the North lies the bar of the majestic chain of the Ecrins mountains, some of which have summits above 4,000 metres. It'll be an unforgettable and timeless moment !
What to see
14th century church, included on the list of historical monuments.
Ruins of a 13th century fort (17th century stairway and plasterwork, currently undergoing restoration).
Imperial bridge of Beynon (on the Napoléon road).
White Penitents chapel.
Pigeon loft.
Renaissance Houses.
Leisure activities
Hiking.
Accomodations
Holiday rentals