Bouchet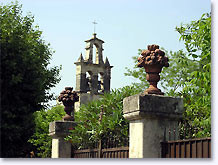 Bouchet is renowned for its very fine vineyard - producing a wonderful "Côtes du Rhône Village" - and for its holm oak truffle grounds.
It is a small village on a plain, typical of Provence, with its avenue of plane trees to park your car in the shade, on the banks of a small green river inhabited by a few ducks.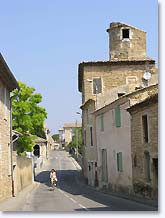 There reigns an atmosphere of utter tranquility which will quickly soothe the stressed traveller.
If you take the time for a short stroll, you will have plenty of time to admire a large roofed wash-house, some beautiful gardens protected by high dry stone walls, and above all the superb yellow stone Romanesque church, with a bell-tower built into a wall overlooking a small square.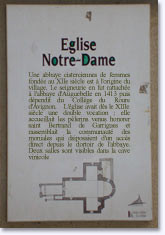 Although this village is so peaceful it has some interesting history. In the 12th century a Cistercian abbey for women was founded here, Notre-Dame-du-Bouchet.
In the 15th century it was attached to the abbey at Aiguebelle which was pillaged during the Reformation. In the 19th century it was converted into a textile factory, which closed down in 1971.
The abbey was subsequently purchased by the Cellier des Dauphins of Tulette wine company, and beautifully restored. Today it is used as an ageing cellar for the best Côtes du Rhône wines.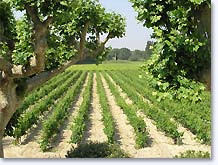 The adjoining Romanesque church was also founded in the 12th century.
However don't forget earthly nourishment! At the restaurant on the square a "truffles" menu awaits that will leave the gourmets amongst you with lasting memories !
What to see
Remains of a Cistercian abbey founded in the 12th century by the Adhémars.
Church of Romanesque origin (17th century great door).
St Sébastien chapel (18th century).
Leisure activities
Hikes to La Lance mountain (1338m).
Horse-riding. Mountain-biking. Tennis.
Pétanque. Fishing. Swimming pool.
Football pitch, tennis courts and pétanque pitch.
Accomodations
Bed and breakfast.
Campsite.
Restaurant.