Saint-Restitut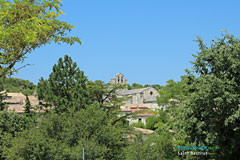 After a little road winding through the maquis, lulled by the song of the cicadas, you enter the village of Saint Restitut perched on a small hill, after crossing an old bridge.
This is the kingdom of old stones, almost white or yellow ochre, brightened up by pale blue and green shutters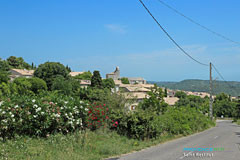 Walk along Rue de la Sérénité and you will be enveloped in the atmosphere of this peaceful village, where the sloping streets will enable you to glimpse the azure blue of the Provence skies, between two walls.
The church alone is worth visiting; a marvel of pure understated Romanesque art.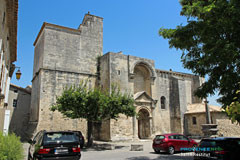 Admire the door with its ancient decoration and fantastic iconography.
As you walk along, you'll discover a little square shaded by plane trees, a superb turretted Renaissance house, remains of the defensive walls, a Rose Gate, an old mullion window, a gargoyle, an inscription, and a date evoking a past that is very much present.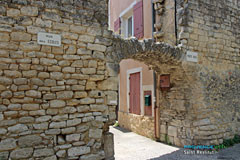 From above, the village is a sea of Roman roof tiles in an ocean of green.
Finally, don't forget to taste some wine at the "cathedral cellars" - ageing cellars located in a disused stone quarry, used in particular to obtain stone to build the Popes' Palace in Avignon.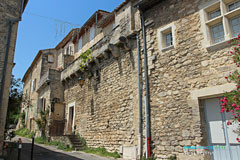 It's a magical magnificent place, an astonishing underground cathedral providing perfect humidity for the "Cellier des Dauphins" wines.
Worth visiting to admire the enormous oak ageing casks, and an old 18th century press. And above all to taste these prestigious wines, Red and White Réserve, Red Grand Millésime, Grande Cuvée Toque Noire Red in wooden crates

What to see
Provençal Romanesque church (12th century).
Saint-Sépulcre chapel in the Flamboyant Gothic style (16th century).
Remains of defensive walls.
Turretted Renaissance house.
Funeral tower (11th century, St-Restitut's tomb).
Disused stone quarries.
Leisure activities
Hiking, Mountain biking, sports complex.
Nearby:
Wine University in Suze-la-Rousse.
Golf. Climbing, Horse-riding. Tennis.
River fishing. Canoeing.
Visit to the cellars of well-known Rhone Valley wines (Le Belvédère: visit for a charge every day).
Accomodations
Hotel.
Bed and breakfast.
Holiday rentals.
Restaurants