'; //-->
Rosans
Departement of the Hautes Alpes - Population : 500 inh. - Altitude : 683 m.



57 km North-West of Sisteron via the D4075 (E712) and then the D994.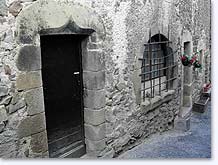 Rosans is located right on the edge of the Drôme at the end of the department.

It is reached by taking a fine road that crosses the superb valley of Oule, green and hilly with plenty of trees - where poplars, limetrees, cherry trees and pines grow wild.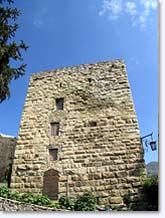 Wooded slopes alternate with eroded white and grey boulders. You are in the heart of Les Baronnies, a pretty region wherein lies a jewel, the village of Rosans.

From far away, Rosans offers the visitor the harmonious view of its ochre stones and old roofs with Roman tiles.

As you approach, you'll discover a village that is still medieval, where time seems to have stood still, as shown by the old faded signs, for shops that closed down long ago.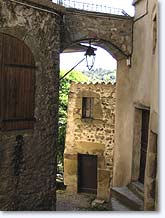 This bewitching medieval atmosphere will envelop you as you enter the village, through a gateway with a vaulted roof, and will stay with you throughout.

If you take Rue de la Tour; Rue de la Four, or Impasse du Recoin, you'll end up in front of an impressive square tower, called the "Saracen tower"..

It was built in the 13th century from enormous blocks of stone cut into diamond shapes, and is still perfectly preserved. Rosans has been partly restored but is still half abandoned. It is waiting for willing hands to restore its glory of yesteryear. It deserves it, if only because of the beauty of the ochre stones used to build all its houses.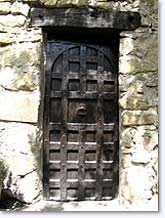 In fact Rosans has the potential to become one of the most beautiful villages in France !

Not far away, don't miss Saint-André-de-Rosans, where you will find the beautiful ruins of a Benedictine priory built in the typical Provençal Romanesque style.

It was founded in 988, and its superb sculpted friezes are still there to be seen. A village like Rosans, that also boasts the impressive remnants of medieval defensive walls, vaulted passageways and ancestral houses built from dressed stone provides eloquent testimony of the past.




What to see:
Eco-museum. Saracen tower (13th century).
Remains of the château Lesdiguières.


Leisure activities:
Hiking. Swimming. Mountain-biking
Circuit "cœur des Baronnies (Heart of Les Baronnies")".
Méouge Gorge.
Lavender trails.


Accommodation:
Bed and breakfast, cabans and table d'hôtes.
Holiday rentals.
Campsites.


Neighbouring towns and villages:
Serres (23km).