Rochegude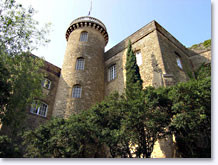 If you take the Côtes du Rhône wine trail – renowned for its wine-tasting cellars – you can't miss Rochegude and its castle on a mound overlooking a vast plain filled with vineyards.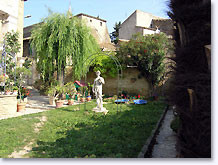 At the southern tip of the Drôme department, between the Rhône and Ventoux, this peaceful village has the smell of Provence lavender about it. At is feet lies a verdant meadow and a sports field, an avenue shaded by plane trees, two roofed wash-houses and a large fountain...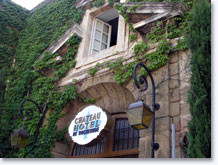 You should take plenty of time to ascend a few stairways in order to appreciate the old buildings currently being restored, right next to old abandoned barns, vaulted archways, imposing high walls, etc...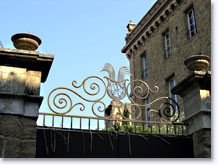 By walking alongside these superb high walls of pale yellow stone where ivy is growing, you will reach the castle entrance. Today it has been transformed into a luxury hotel, and its most ancient sections date back to the 13th century; to be admired from the outside!
Not to be missed on the castle square is the terrace where three enormous cypress trees are planted, giving a marvellous view of the old roofs of pink, grey and brown tiles.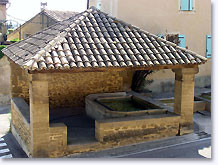 Vines have been cultivated at Rochegude since Roman times. Apparently its wine was a great favourite with the Emperor Domitian.
There is nothing to stop you tasting (in moderation!) one of these "Côtes du Rhône Village", which is the official name of the wine made at Rochegude.

What to see
Romanesque chapel of N.-D.-des-Aubagnans: fortified, and topped by a statue of the Virgin Mary.
Romanesque chapel of St-Denis at the cemetry (12th century, Carolongian tracery).
Leisure activities
Hiking. Mountain-biking.
Accomodations
Hotel.
Bed and breakfast.
Holiday rentals.