Sainte Cécile les Vignes
Sainte Cecile les Vignes is a small peaceful village spreading over the plain in an area known as the "Provence of the Popes" (
Provence des Papes
), on the northern border of the
Vaucluse
and the
Dro;me
.
As its name suggests, here you are in one of the most important
Cotes du Rhone
wine-making areas..
So you will not be surprised to see acres of vine fields all around Sainte Cecile.
The vineyards line the road, right up to the heart of the village.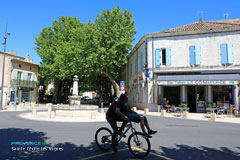 They produce the AOC "Cotes du Rhone" and the brand new AOC "Cotes du Rhone Village Sainte Cecile".
Some wineries also produce neighboring appellations such as the AOC "
Grignan les Adhemar
" and the AOC "Cotes du Rhone Village", "Plan in Dieu", "
Cairanne
", "Massif d'
Uchaux
" ...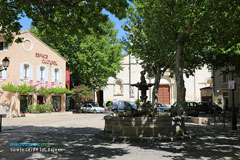 There are two cooperative cellars in Sainte Cecile: Cave
Cecilia
, the oldest, which marks the entrance to the village from the
Orange
road and the Cave des Vignerons Reunis and its
Colombe des Vignes
cellar (Route de
Valreas
).
Sainte Cecile is a picturesque village for a visit, revealing ancient private mansions and some very interesting ruins.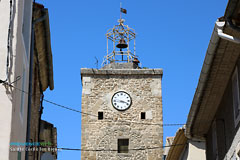 In olden times (from 1370 onwards) the village was protected by ramparts, traces of which can be seen to this day.
The old centre is encircled by three courtyards, with lively cafe and shops (Trintignant, La Poste and Portalet)..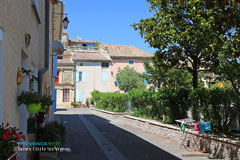 The oldest part of the village comprises ancient houses built right up against each other.
As you walk around, you cannot fail to see the Clock Tower, crowned by its wrought iron campanile with a small bell.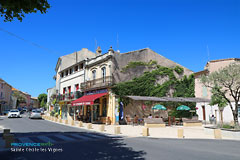 You can also visit Sainte Cecile church and take a look at the mairie. Don't miss the 14th century Tour de Defense which houses the Tourist Office and the wine tasting cellar run by the
Wine-growers of Sainte Cecile
. It's time to take a breather.... and meanwhile you can admire the beautiful 14th century vaulted roof.
What to see
Remains of the ramparts with the 14th century Clock Tower.
House of Cardinal Cecilius (village library).
12th century Ste Cécile church, altered in the 18th century.
The wine co-operative, vineyards.
Leisure activities
Man made lake with facilities. Fishing.
Tennis. Walking.
Saturday morning market.
Accomodations
Hotel.
Gites. Vacation rentals.