Cannes
On Highway A8 and N7, 26 km from Nice International Airport.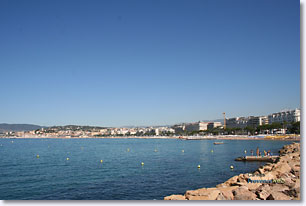 At the dawn of the 21st century, Cannes no longer has anything of that obscure town of the 1830s where fishermen beached their boats on the shore in front of the port.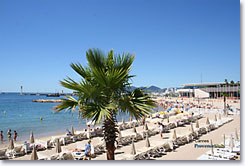 In just over a century, it has become an elegant city of world renown where everything is done for an international clientele.
The Art of Well-Welcoming is indeed a tradition in Cannes.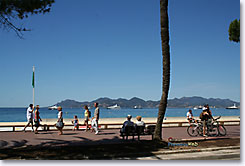 The places of interest in Cannes are:
- the city on high (Haute ville),
- the old port
- rue Meynadier
- the Palace of festivals
- the
Croisette
.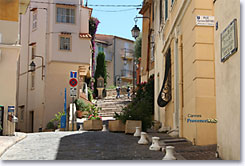 Haute Ville
One gets to the top of the city by climbing the Mont Chevalier up to Suquet. The panorama at the top is breath-taking with the whole city below surrounded by the blue sea and the Lerins Islands. Following narrow streets down to the market of ForviIle and through the plane tree lined streets of Liberte, one arrives back at sea level..
The Vieux Port
All along the Quai St Pierre in the old port one can find fishing boats and pleasure boats side by side. The fishermen work on their nets next to their colorful barks. On the pier Albert Edouard the most beautiful yachts in the world come to moor. Looking out to sea one can perceive the islands of Ste Marguerite and Ste Honorat which are accessible by boat in 20 minutes.
Meynadier street:
Full of life from morning to night this street has shops of every sort.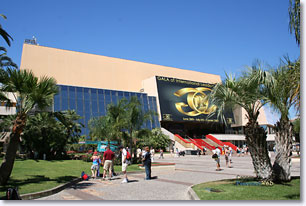 Le Palais des Festivals
This fabulous structure, capable of housing all kinds of assemblies, has propelled Cannes into becoming the second most popular convention town in France. The
International Film Festival
is held here, as well as, the
MIDEM
(congress of record producers), concerts of classical music, dance and theater. There are even four casinos.
The Croisette
This is one of the most famous promenades in the world. For three kilometers following the curve of the bay one can see flowering gardens, lawns planted with palm trees, umbrella pines and other trees all the way to Port Canto, Palm Beach and a sea water health spa. Strollers can find their way back to the center by taking the renowned rue d'Antibes.
What to see
The churches Notre Dame du Bon Voyage (18thc.),
Notre Dame de l'Esperance. The Russian church Alexandre III.
The chapels Bellini, Ste Anne, Notre Dame de la Paix, St Georges.
Villa- Musée Jean Gabriel Domergue.
Musée des Explorations du Monde,
Musée de la mer
Malmaison.
The park Roseraie. The garden Alexandre III.
Leisure activities
Tennis. Casinos (4).
Golf. Boating. Aerodrome.
Boat rentals.
Public and private sand beaches.
The Royal Regatta in September.
Flower, fruit and vegetable markets.
Antique sales 3 times a week all year round
Hotels
Bed and breakfast
Holiday rentals
Campings