Théoule sur Mer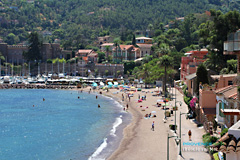 Nestling in the Esterel massif in an area of 1049 hectares Théoule offers you its red rock inlets and calanques from where you have captivating views of the sea, the coast and the mountains.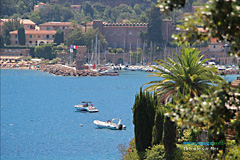 Sheltered in a small cove on the Estérel coast, Théoule is a peaceful, even heavenly seaside resort, which has everything to delight holidaymakers: turquoise waters lapping its sandy beaches shaded by palm trees, numerous inlets and calanques in the red rock of the Estérel, a charming little marina with its mini-lighthouse built from red stone, a few very beautiful and luxurious residences surrounded with gardens, a superb crenellated castle built from red stone, called the "château des Mineurs" in fact a former 18th century soap factory converted into a holiday centre)...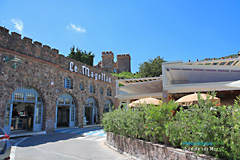 In the 5th century Théoule sur Mer was a stronghold of the lord of
Mandelieu La Napoule
, Eucher Gaulois. Ever since Antiquity it was a very safe anchorage, protected by a watch-tower, (razed to the ground in 1648).
Subsequently, for many years Théoule was a little fishing port belonging to the municipality of Mandelieu, and only started to really flourish at the end of the 19th century, before becoming a municipality in its own right in 1929.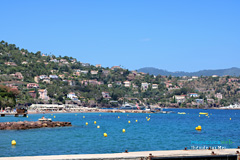 LIts mild climate throughout the year, the abundance of the vegetation and the diversity of the landscapes between the Mediterranean and the Estérel are attracting more and more nature lovers... who will be in seventh heaven as they stride along the footpaths to the surrounding summits (including the Grosses Grues, culminating at 440 m) or in the area of Pointe de l'Aiguille: a magnificent park of red rocks plunging into the crystal clear sea.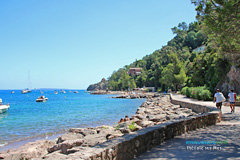 Useful information: nudism is tolerated on one of the beaches between Pointe de l'Aiguille and Pointe St-Marc. Access on foot from the N 98 coast road.
What to see
Departmental park of Pointe de l'Aiguille (7 hectares, four beaches among the inlets and cliffs).
Leisure activities
Departmental park of Pointe de l'Aiguille (7 hectares, four beaches among the inlets and cliffs).
Sailing, water-skiing, diving centre, marine farm, sea excursions, Balneotherapy.
Horse-riding. Golf.
Hiking in the forest of cork oaks and maritime pines and in the nearby Tanneron massif: more than 23 kilometres of waymarked footpaths.
Guided tours of the village (free).
Shows and concerts in the Pierre Cardin Palais Bulles (in summer).
Accomodations
Hotels.
Holiday rentals.