Lucéram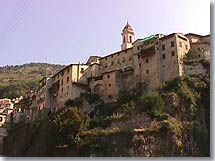 Located 27 km from
Nice
in the Paillon valley, this beautiful fortified medieval village overlooks a verdant landscape.
Perched above a loop of the Paillon river, Luceram was once a fortified outpost located on the ancient Salt Road, and in the Middle Ages was a seigneury belonging to the
Count of Provence
.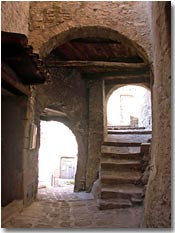 A castle once stood at the top of the village, but all that remains today are a few ruins, a cylindrical tower with machiolations and archer's slits, and the remnants of a crenelated fortified surrounding wall dating back to the 12th and 13th century.
To reach the top, you must summon up your courage to climb a series of criss-crossing alleys and stairways. On the way you can admire some magnificent restored gothic houses, solidly built from the local grey zone, designed to withstand the passage of time over many centuries. Arcades and vaulted passageways, doors with dated lintels and bread oven, little fountains... and finally you'll arrive in front of the church of Sainte-Marguerite of Austria, a listed historical monument.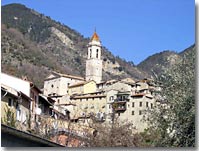 While its pastel coloured front is charming, despite the mixture of architectural styles (romano-gothic converted in the 18th century to Italian Rococo), its baroque interior is a real delight to the connoisseur's eye, in particular a Renaissance altar piece attributed to the great
Giovanni Baleison
, as well as a treasure of great value (a 16th century wooden crucifix, Pietas and Virgin with Child, 15th century silver gilt reliquary, processional cross, silver censer, processional lanterns from the distant past, etc.).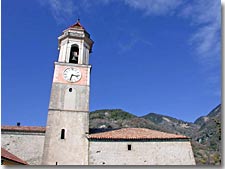 As you leave the church, don't forget to contemplate the view over the sea of rooftops with Roman tiles, with a beautiful verdant landscape of wooded hills in the background.
But the "cultural" part of your visit is not over yet. The "Friends of Luceram" association has set up a small museum of the village's tools and history, where among other things you will find on show the black-smith's tools, a corking machine for olive oil, a forge bellows and an anti-wolf collar.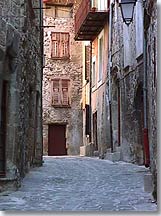 You can also visit the crib museum at the "Maison de Pays", and a 17th century olive oil mill museum (Val del Prat farm).
The municipality of Luceram is located in a mountainous area, and has several peaks - such as Pointe de Faulio (1212 m), Cime de
Peira-Cava
(1460 m) and Mont Escobet (1170 m), amongst others. Don't forget there is also the
Peira-Cava
the first ski resort to be built in the "departement" in 1914 but unfortunately the chairlift was dismantled a few years ago. The nearest ski station is now in
Camp-d'Argent
(municipality of
Lantosque
).
Hiking fans should head for the Authion circuit - which can also be discovered by car, and includes several footpaths heading for the fascinating "
Vallée des Merveilles
"!
White water enthusiasts will make a bee line for the banks of the Paillon river, up to the La Foux source, to explore Perthus du Drac, a cave 100 metres long.
To end our visit to this superb village on a gastronomic note, drop in at the "Maison de Pays" where local produce is sold, such as olive oil and "panisses"!
What to see
Ste Marguerite Church (1487 and 1763).
The feudal tower and ramparts.
Chapels listed as historical monuments:
Notre-Dame de Bon Coeur, St Grat both contain frescoes
attributed to Giovanni Baleison (late 15th century).
Olive oil mill.
Leisure activities
Starting point for numerous excursions and hikes
(Authion, Vallee des Merveilles with hiking circuit).
Feast of Sainte-Marguerie (20th July).
Feast of Sainte-Rosalie (6th September).
Feast of Saint-Hubert (15th August, with blessing of dogs).
Street markets and flea markets.
Accomodations
Bed and breakfast.
Holiday rentals - Gites.