Castagniers
16 km from Nice via the N202 then the D614 on the right. Bus and train: stop at the Moulins.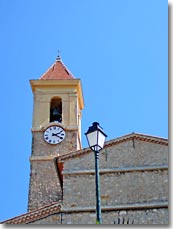 Castagniers is a pretty little perched village in the Nice hinterland, surrounded by hills and nestling in generous Mediterranean vegetation, with a superb uninterrupted view of the Var plain.
It is said Castagniers got its name from an ancient Chestnut tree that sheltered travellers. It is reached via the picturesque D14 road, climbing up the hillside in tortuous hairpin bends, in the midst of parasol pines.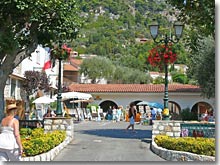 Castagniers is a relatively recent municipality (1874), that split away from
Aspremont
, Today it consists of a series of hamlets with evocative names: les Moulins, la Grotte, la Garde, le Vignon, le Cabrier, le Carretier, etc.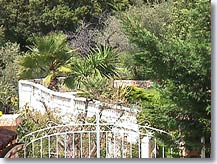 Castagniers has no medieval past, but does have a relatively old quarter, called "du Masage", dating back to the end of the 19th century - consisting of some fine stone-built houses grouped around a large church, which seem to cling to the hillside.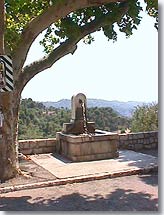 Superb walks and hikes await you around the village, inviting you to discover the beautiful natural environment and its fragrances at first hand.
If you climb to the top of Mont Cima at 878 metres, you will be rewarded by a magnificent panoramic view.
At the Cistercian convent of Notre-Dame-de-la-Paix, you can buy chocolates and jams made in the traditional manner. It's a haven of peace amidst cypresses and olive trees, where a community of nuns live in a large 16th century house.
Here you will receive a warm welcome, since Saint Benedict's Rule declares: "At the monastery, guests are welcomed as if they were Christ".
What to see
Oil mill still working (in operation since 1250, produces olive oil, salted olives, olive paste and A.O.C. tapenade).
The parish church of Saint-Michel (19th century).
Abbey of Notre-Dame de la Paix, a Cistercian convent with a very fine garden (1928):
Chocolate factory (chocolates can be ordered by e-mail or fax, and are collected from the shop at the Abbey.) "Copper Cross", above the place known as "la Grotte".
Protected site of Vallon Obscur du Donareo, a Natura 2000 site.
Leisure activities
Walks, hikes: GR5 hiking path or along the Vesubie canal.
Easy walk to the Cuor Cross, Mont Cima (878 m) and orientation table. Feast of St Vincent, festivities of St Jean. Mini triathlon.
Chestnut festival. "Criterium" Alpine walking competition.