La Colle sur Loup
Snuggling in a beautiful natural environment of oaks, olive trees and pines, lemon trees and perfume flowers, La Colle sur Loup is a very pleasant health and tourist resort located 10 minutes from Nice, and less than an hour from the ski resorts of
Greolieres
and
Andon
.
La Colle sur Loup was a seigneury in the 16th century, and formerly a medieval community and stronghold of Gaudelet.
From its past there remains a castle still in good condition as well as a 12th century priory now converted into a restaurant (L'Abbaye), which still has a fortified gateway, corner towers, cloisters and a listed Romanesque chapel.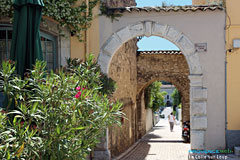 Walk through the Canadel gate to immerse yourself in the atmosphere and visit the historic centre with its lively shopping streets and old narrow alleyways where you can admire shady little squares, fountains and wonderful carved doors.
For many years La Colle sur Loup was the capital of the perfume rose. Today it is renowned for its antique dealers and decorators, and also for its fine restaurants.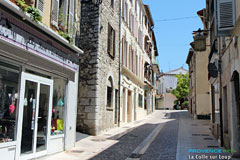 La Colle sur Loup has always attracted artists such as
Yves Klein
, the founder of the New Realists who is buried here,
Jacques Ferrandez
the well-known cartoon strip artist, the architect
Yves Bayard
, and
Raoul Giordan
, another cartoon strip artist and creator of Space Gordon!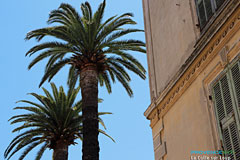 As for the natural side of things, the river "Loup" is one of La Colle sur Loup's main attractions.
Its banks are true oases of coolness, its peaceful murmuring waters are very popular during the hottest summer periods and they are also renowned for the trout that can be caught here.
On the banks of the Loup, in the summertime you'll find two municipal parks (La Gueriniere and Roubert) where there are health trails, playgrounds and even a pony club!
What to see
St Jacques church - 1726 with Renaissance facade, (square belltower from 1666, campanile portal, 19th century stained glass windows by Gesta from Toulouse).
16th century Chateau de Montfort.
16th century hunting lodge of Francois Ist known as "le Gaudelet" (beautiful Renaissance facade, trophy room with joist ceiling).
Canadel Priory (currently the Abbaye restaurant) and its Romanesque chapel (12th century, single nave, semi-circular arches, pointed barrel vault, apse with vaulted hemicycle in semi-dome, cloisters).
Saint-Donnat Mill, called Pagnol's mill. br /> Tower with engraved plaque "Concordia et labore 1623".
Chapels of the white penitents, Saint Donat (17th century) and Saint-Roch (well-restored classical facade).
Neolithic grave cave (Bronze Age) and Bianchi Cave, partly destroyed (late Neolithic and Bronze Age graves).
Leisure activities
Saint-Paul-la-Colle intermunicipal sports ground.
Amusement park for children. Canoe-kayak. Fishing.
Hiking (Loup valley). Heated swimming pool. Tennis.
Horse-riding (riding club, pony-club).
Feast of Saint-Eloi (6th July: horse procession and blessing).
Rose Festival with petal battle (May). Traditional trades festival (September).
Bed and breakfast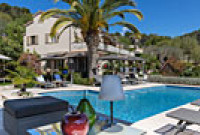 Bed and breakfast - 3 Guest rooms in a villa with panoramic open view
Private terrace - Luxury bedding - Air conditioning - Nespresso machine
Swimming Pool - Landscaped garden -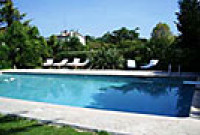 Bed & breakfast - 3 Comfortable guest rooms independent
Swimming pool - Landscaped garden - Quiet
Accomodations
Hotels.
Bed and breakfast.
Holiday rentals.
Campsites. 2 VVF centres (Village Vacances Famille).
Holiday centre.