Vence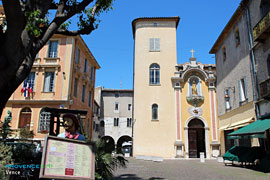 Vence combines the charm of a historical town with an exceptionally mild micro-climate.
Dufy
,
Matisse
,
Chagall
,
Dubuffet
, Carzou, Arman, D.H Laurence...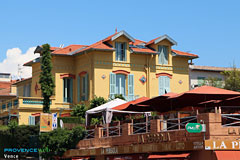 These are just some of the artists attracted to Vence.
Henri Matisse
for example, to whom we owe the Rosaire chapel, a unique piece of work, said of Vence where he lived: "this morning as I was walking along in front of my house, seeing all these young girls, women and men cycling to the market I felt as if I was in Tahiti."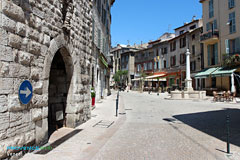 Behind all this charm is a great deal of history. Vence was formerly the ancient Roman settlement of Vintium, and subsequently became the bishopric and seigneury of the Villeneuve family. The town has conserved much of its historical heritage.
From the Ligurian period you can admire the "Marseillais Columns", the remnants of a Roman triumphal arch.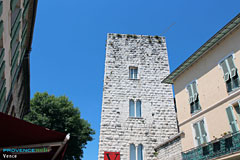 Later on, in the Middle Ages, a defensive wall was built around the town.
Many fine remains of this rampart are still standing and can be crossed at the tower-gate of Signadour or the Levis portal (both dating back to the 13th century), the Peyra gate (15th century) or the Breche gate (18th century).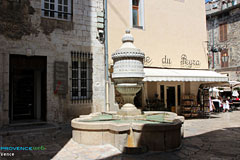 Once you have entered the town, just wander around the maze of cobbled alleyways, passing underneath refreshing vaulted passageways, to admire Place du Peyra Renaissance and its famous fountain photographed innumerable times (1822)...
Don't miss the Gothic house on Place Godeau, and on Place Thiers, the ash tree planted in memory of François 1st's visit ... in 1538!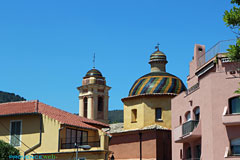 The Romanesque cathedral (11th century) adjoining the Saint Lambert Tower (12th century), contains stalls sculpted by Jacotin Bellot, a dredge carpenter from Grasse (15th century), a beautiful 16th century altar piece, a unique set of 17th century polychrome wooden statues, a mosaic by Marc Chagall ("Moses saved from the waters") and a Saint-Veran sarcophagus dating back to... the 5th century!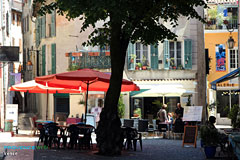 When you have had your fill of artistic treasures, enjoy some well-deserved rest as you lunch on the terrace of one of the many small restaurants scattered around the pretty squares that are everywhere in old Vence.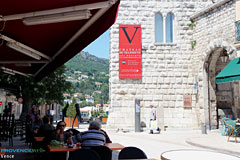 Then leave the old town via the Peyra gate to visit the
Château des Villeneuve
, now converted into a museum where contemporary art exhibitions are held.
Further on you should visit the Chapelle des Pénitents blancs, a superb building boasting a cupola covered with varnished tiles and a Renaissance belltower.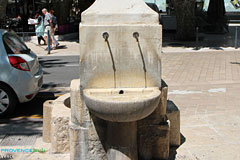 Further on still you can quench your thirst at the Fontaine de la Foux, from which extremely pure mineral water has been flowing ever since medieval times (1431).
With its micro-climate blessed by the gods, its hills of olive trees and citrus fruits, common and holm oaks, Aleppo pines, luxuriant gardens fragrant with rosemary and
lavender
, its majestic baous and the Col de Vence where the air is so pure, Vence has plenty of assets to enchant you.
What to see
Cathedral of Nativite-de-Notre-Dame and its Treasure (historic monument originally built in the 11th century).
Château des Villeneuve (16th-17th century).
Chapelle du Rosaire des Dominicaines 1951, designed and decorated by Matisse, stained glass windows.
Penitents blancs chapel (historic monument dating back to 1614).
Sainte-Elisabeth chapel (Jean Canavesio fresco, 15th century, "the path to Paradise").
Les Colonnes des Marseillais.
Boursac Mill (built in the 15th century, converted into a youth community centre).
Important prehistoric and ancient remains: neolithic burial site at Baou-des-Blancs (Ibis and Aigle caves), numerous oppida, section of the Via Ventiana, Roman remains at the Col de Vence forestry centre and even Gallo-Roman reliefs in the cathedral.
Local organic market on Saturday morning (Place du Grand Jardin). Friday and Sunday morning: farmers' food market.
Leisure activities
Contemporary art exhibitions, literary events, drama activities.
Classical music and jazz concerts.
Secondhand books market. Traditional feast days.
Swimming pool, tennis, clay pigeon shooting, fishing.
Walks (200 km of waymarked paths to the Baous and Col de Vence).