'; //-->
Lieuche
Alpes Maritimes Departement - Population : 47 inh.



North East of Nice on the RN 202. 2 km after Touet sur Var take the D28 on the right.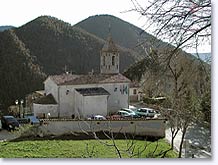 A tiny panoramic road, very narrow, will take you through wild landscapes of black marl worked by erosion.
At the end of the world, perched on its promontory, in the middle of a circle of wooded mountains, stands the tiny village of Lieuche, picturesque as one could wish with its very old low houses in ocher and gray freestone, covered with Roman tiles.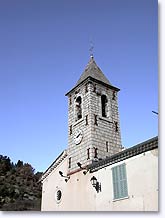 Lordship of the Faucon de Glandeves in the 12th century, Lieuche has kept from its past a large church, Notre Dame de la Nativité, in "rustic baroque" style (17th century) which conceals a rarity inside: one of the most beautiful works by Louis Brea, the Annunciation, dated 1499.
Perhaps you will be lucky enough to meet the very old lady, the key attendant, who will open the doors of the church for you to admire this marvel!






What to see:
Church, ND de la Nativite du XVIIth Century.
The Annunciation, painting of Brea.
Votive chapel of St Macaire-St Antoine (17th c),
Chapelle St Pons (1457m, 6 km from the village).
Ruins of the St Ferréol chapel (Benedictine priory).


Leisure activities:
Hiking: for example, towards Mont Lieuche to the northeast (1759 m)
or towards the Col de Saint-Pons, 1451 meters, where you will find a chapel and a refuge (12 places).
Village feast at the end of June.
Parish feast of Our Lady of the Rosary (first Sunday in October).
Patronal feast (January 14) and pilgrimage to St Macaire (January 15).


Accommodation:

See Touet sur Var (10km).


Neighbouring towns and villages:
Rigaud (7 km), Touët sur Var (11 km) and Pierlas (15 km).