Menton
30km from Nice on highway 8. Trains, buses, helicopters.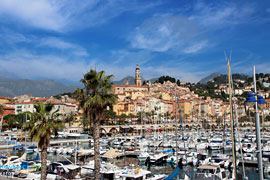 Situated at the extreme south east of France, close to the Italian border, Menton is all at once a city of gardens, a seaport, and a beach resort..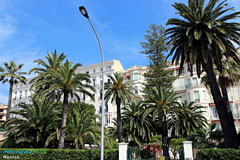 It has won the competition for the best city of flowers in France five different times. Its exceptional sunlight and the subtropical climate make Menton ideal for growing orange trees, lemon trees, palm trees,and mimosa.
Here are extracted rare essential oils and the gardens seem to have been created out of dreams.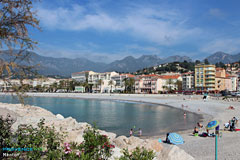 Winters being very mild in Menton and frost being almost exceptional, gardeners and landscapers can then without constraints (or almost) give free rein to their imagination and their inspiration for the creation of gardens. They are then admirably maintained and pampered by a small army of knowledgeable gardeners.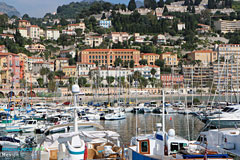 The presence of 2 marinas, the old port and the coast are all excuses to savor the joys of the sea and the sweetness of life that reigns here all year round.
The old town is worth your detour with its beautiful old facades, you will find the atmosphere and charm of yesteryear.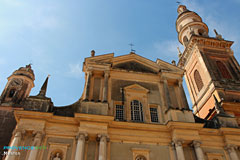 Go for a stroll in Garavan, (between the old town and the Italian border), the luxury villas stand there in a row, built in the past by the notables and the upper middle class who descended on the
French Riviera
to have a good time.
Menton (former possession of the Grimaldis) was a holiday resort much appreciated by crowned heads. They took up their summer quarters in Menton and enjoyed meeting there with wealthy people.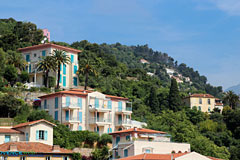 Do not miss the famous
FLemon Festival
which takes over the city for 3 weeks between February and March. Along the Promenade du Soleil by the sea, parade floats built and decorated with citrus fruits according to a different theme each year.
The party is in full swing to the rhythms of Brazilian groups, brass bands, folk groups or majorettes, with the added bonus of a truly magical night parade... one of the major events on the
French Riviera
that you absolutely must see.
What to see
Guided visits to the old city which include fabulous staircases, beach stone mosaics, trompe l'oeil, ceramic murals, 18th and 39th c. houses, the Place aux Herbes...
St. Michel Church.
The Chapels of the Penitents Noirs and the Penitents Blancs.
Beaux Arts Museum in the Palais Carnoles,
Modern Art Galery in the Palais de L'Europe. Jean Cocteau Museum.
The Jean Cocteau Wedding Room. The Museum of regional prehistory.
The eco museum of La Forge.
Garden: Serre de la Madone.
Leisure activities
Casino, discotheques. Theatre.
Little sightseeing train.
All water sports
Holiday rentals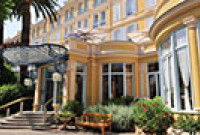 VACANCIEL Village Club
Bedrooms with air conditionned - 1 to 4 pers
400 m from the sea - Downtown