Gréolières
26 km from Grasse on the N85 then the D2.
Located at the foot of the Cheiron, from its vantage point at 800 metres altitude Greolieres overlooks the Loup valley.
The village is itself dominated by the remains of the medieval village the Hautes Greolieres where you can still visit and admire St Etienne's Chapel.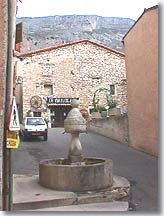 This provokes memories of times gone by when the residents would take refuge in the heights to escape invasions or epidemics.
Having taken this trip into to the history of the village, take a walk around the lanes of the current village.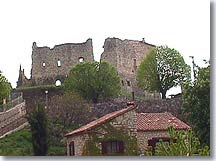 The medieval ruins will evoke memories of the historic influence of the village and you might even sense the soul of a knight!.
Take a look at
Greolieres les Neiges
(ski resort).
What to see
The old bridge which straddles the river Loup.
The Degouttai swallow hole.
The Bouisse cave.
The Chapels of St Etienne and Ste Petronille.
The Church St Pierre.
The washing area and drinking fountain.
Leisure activities
Rental and guided mountain bike rides.
Accompanied hiking, aquatic excursions.
Canyoning. Paragliding.
Climbing. Fishing. Tennis.
Accomodations
Hotel.
Bed and breakfast.
Holiday rentals. Gites.