Bézaudun les Alpes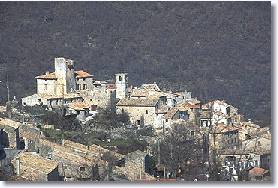 Bezaudun will surprise you: parked in the small car park at the belvedere overlooking a wild and uninhabited landscape in the foothills of the St Barnabé plateau, the village will offer you a harmonious and well-preserved set of old houses, built in the local stone of a beautiful pale gray slightly iridescent.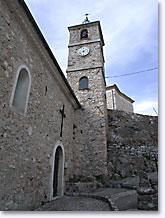 Clinging to its slope, this mid-mountain village built in stairs and tightened in the middle of ramparts of which some vestiges remain, is topped at its summit by a high rectangular tower (13th and 14th century) with twin windows, which constitutes the beautiful remains of a medieval castle. Also picturesque, the stone church and its campanile bell tower.
While breathing in perfectly pure and lively air, you will have a lot of fun climbing the cobbled streets, admiring an old wash house here, a vaulted passage there, or even some beautiful buildings built on outcropping rocks.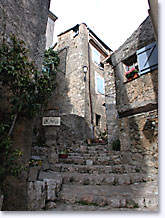 A short stop at the orientation table located in the heart of the village is essential: you will have a panoramic view of the Baou de Saint-Jeannet and the coastal region in the distance.
And perhaps you will want to settle down with your little family in this charming, quiet village, as a painter, an illustrator and a stained glass designer have already done before you!
What to see
Remains of a medieval Chateau.
Prehistoric remains at Villeplaine.
Church (12th century) and Romanesque chapel ND du Peuple (which contains an altarpiece by Brea: The Virgin of Protection and the Rosary).
Leisure activities
Walking ...
Donkey trekking. Fishing.
Accomodations
Gites.
Inn.
Farm Accommodation.