Bouyon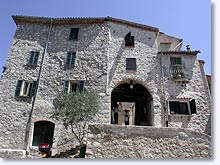 Village-belvedere at the confluence of the Var and the Esteron, perched in a circle of wooded hills, Bouyon is only 30km from Nice...
And yet, you will feel far, very far from the French Riviera!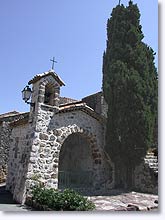 You will travel in the past by taking the Rue des remparts or the Montée du chateau, covered passages leading to singing fountains, cobbled streets leading to charming squares, where facades painted in trompe-l'oeil meet the gray stone walls …
You will admire its church with a wrought iron campanile, and its wonderful chapels, in Romanesque or Baroque style, all in perfect condition.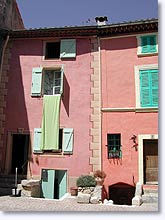 Although only a few sections of the wall remain today from the medieval castle, you should know that Place Michelis Lefranc is guarded by a gate that once belonged to this castle: built on what remains of the ramparts, this square has an elevated position which offers a panoramic view of the surrounding green nature.
Fig trees, laurels and olive trees, it's the whole of the South that grows in each garden.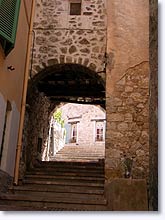 Very lively in summer, lovingly restored, repainted in cheerful colors, Bouyon is a southern village in all its splendour!
Don't leave Bouyon without having bought some mountain honey from the local producer or taken a trip to the communal bread oven which is still in operation, you won't be able to resist the good smell of good bread as you used to!
What to see
Chapels des Penitents, Saint-Pons, Saint-Roch.
Saint-Etienne oratorio.
ND de l'assomption and St Trophime Churches rebuilt in 1887 after the famous earthquake.
The Cherry bridge on the River Esteron. Remains of the medieval chateau.
Ancient Roman road.
Leisure activities
Hiking. Mountain-Biking. Tennis.
Fishing.
Of course the boulodrome.
Village fair in June and August (with slow procession !!!)
Accomodations
Hotel.
Holiday rentals. Gites.