La Bollène Vésubie
50 km North of Nice, by the RN 202 to Plan du Var, then take the D2565 on the right along the Vesubie gorges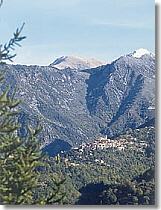 Located on the "Route des Grandes Alpes", leading to
Bevera valley
via the Turini pass, Bollene Vesubie is an extremely old village built onthe valley sides on an outcrop which over looks
the Vesubie valley
, the Turini forest, the Merveilles valley and the
Mercantour national park
!!!
La Bollene Vesubie is a summer resort combining the beneficial effects of spring water and pure bracing air. As early as the 19th century a certain Doctor Ciaudo recommended the area, which has been drawing on the spring at Prai for a long time.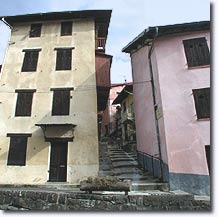 La Bollene was a seigneury attached to the Earldom of
Nice
and has been able to preserve and develop an old mountain and pastoral tradition borne out by the presence of several thousand sheep and some twenty cows.
Not forgetting the splendid larch, pine and spruce forests, that are ideal for walking (12 km of forest paths) and their rich and varied plant life (that we must continue to preserve).
The village has many stepped streets and old, slightly austere looking houses some of which are built right on the rock. Why not wander through the maze of twisting streets on your way to the top of the village, where the superb baroque style "Sancto Laurentio" (St Laurent) church is located, with its recently repainted soft yellow, square archway.
Inside are three 15th and 16th century polychromes and vaults decorated with modern murals representing the village that St Laurent watches over.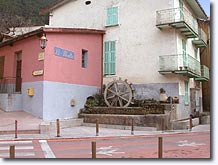 In winter the sunny, family ski resorts of Turini and Camp d'Argens are a pleasure for young and old : creches, leisure activities centers offer a range of possibilities where everyone can find their own rhythm to discover the pleasures of the mountains.
Heaven for those who love beautiful natural spaces, (even those who are more blasé...) breath deeply that pure mountain air !!!
What to see
St Pierre and St Paul Church, 16th and 17th century.
St Laurent Church Baroque style. Grain Mill.
Entomology Museum (butterfly and beetle collection).
Leisure activities
Walking & Hiking and Mountain biking.
15 km downhill pistes and cross country skiing.
Forest trails, snow shoe walking and dog sleigh.
Tennis. Fishing. Swimming pool. Canyoning
St Laurent fair, 10th August.
Return of the shepherds, 30th October.
Accomodations
Hotels. Restaurants.
Holiday rentals. Gites.
Holiday center.