Lantosque
52 Km north of Nice. Take the RN 202 then the RD 2565.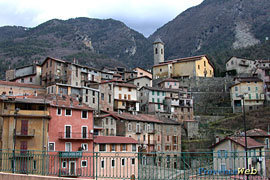 Overlooking the Vesubie, Astride its rock, Is Lantosque the lovely, Holding high its proud bell tower": this first verse of the "Lantosquoise" gives a perfect account of the picturesque location of this large mountain town that stretches along a rocky ridge in the middle of
the Vesubie valley
.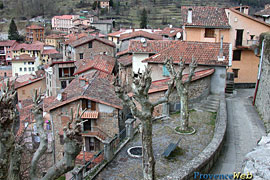 In previous centuries it was destroyed several times by earthquakes, and even today the village still seems to be barely balancing on its promontory.
If you climb the steps of the main street, you will be able to discover the tall old houses in dressed stone or painted with beautifully faded warm colours as well as the charming little streets that run up and down the village.
You will be able to admire some beautifully sculpted doors (one of which has a swastika), some vaulted passages and a superb old fountain dating from 1866.
If you go up to the top of the village, to the Saint-Sulpice church,whose wide facade and culpted door date back to the 17th century, you will be rewarded by a magnificent view of the rooftops with their old Roman tiles.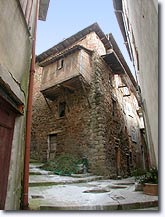 Take the time also to visit the hamlets of Loda, St Colomba and especially Pelasque, where you will discover superb panoramas of the
Vesubie Gorges
.
You will be enchanted by this small group of houses standing in the middle of a magnificent rural landscape, they seem so far from everything, as if nothing could perturb them.
What to see
Church St Sulpice.
Black Penitents chapel (opposite the town hall).
Leisure activities
Walking and Hiking. Tennis.
Horse riding. Climbing. Fishing.
Cinema. Seasonal Activities.
Ste Anne Fete, 26th July
Accomodations
Hotels.
Bed and breakfast.
Holiday rentals - Gites.
Campsites.