Castillon
11km north of Menton, via the D2566.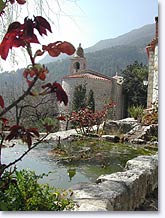 Castillon is a small village situated on the Italian border north of de
Menton
.
The history of Castillon was very turbulent between the 12th century and 1951: destroyed by two wars and an earthquake, the village was entirely rebuilt each time.
Castillon is consequently a modern village and you will discover recent constructions on the hill-sides.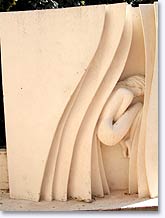 Castillon today supports an extensive art industry thanks to "Les Arcades du Serre" which groups artists of all descriptions including painters, stained-glass window makers, sculptors... etc.
You can admire their works thoughout the year but especially during summer when the "rencontres d'artistes verriers contemporains" is held.
What to see
Ruins of the original village.
20th century parish church.
Leisure activities
Hiking, (route GR52).
Art exhibitions.
Accomodations
Holiday rentals.