Châteauneuf Grasse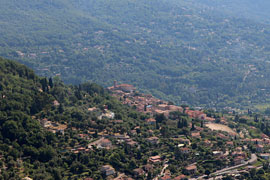 The village of Chateauneuf de Grasse is listed as one of the historic sites in
Alpes Maritimes
.
Attached to the slopes of a hill, Chateauneuf de Grasse looks over the surrounding countryside with the Bay of
Cannes
in the distance.
At an altitude of 413 m and with a surface area of 895 hectares a visit to the village will take you past many interesting signs of its historic past.
Ornate windows with their sculptures in the forms of shells, doorways, passageways, wide staircases, houses dating back to the XVIth and XVIIth centuries, porchs, lintels, washing areas.
What to see
The village. The castle.
The old cemetery with a panoramic view.
The site of Notre Dame du Brusc.
Parish Church dating from the XVth and XVIIth century.
Leisure activities
Horse riding center. Cycling. Boules.
Tennis. 18 hole international Golf.
Village Fairs. Pottery.
Accomodations
Hotels.
Bed and breakfast.
Holiday rentals.