Cipières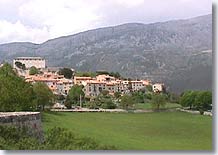 Opposite the Cheiron range, Cipieres overlooks the Loup valley. At the top of the village, the castle itself dominates Cipieres.
The castle is in classical provencal style, dates back to the XIIIth and XVIIIth centuries, was magnificently restored in 1951 and since, transformed into a 4 star hotel.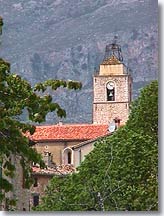 There are two buildings in Cipieres which are listed in the supplementary inventory of historic monuments :The Chapel St Claude (XVIIth cent.) with its superb wrought iron gateway and the Saint Mayeul church (XVIth-XVIIth) with its beautiful bell tower and beautiful campanile (XVIIIth).
In the village itself, discover other architectural treasures as you walk around its quaint streets and appreciate the beautiful houses. Take advantage of some of the walks around the village and you'll spot a number of "borries " amongst the garrigue, with its distinctive aroma.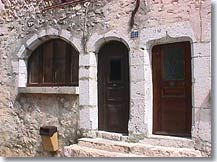 The walks are sign posted from the village, and some will take you up to the Calern plateau where the sky is so clear that an astronomy observatory has been built to study the night skies.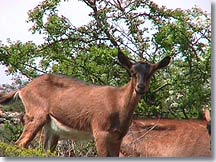 Don't leave Cipieres without tasting its excellent regional : honey, goat's cheese and lamb.
What to see
The castle (13th, 18th century), superb restoration.
The St Claude Chapel and wrought iron gateway.
St Mayeul Parish Church (16th century). Bories.
Leisure activities
Local tours. The Loup valley.
The Calern plateau.
The Gros Pounch signal.
Chasms. Caving.
Hiking (the GR4 passes through the village).
Tennis. Fishing.
Artists painters.
Village fairs in June and August.
Astronomy at the observatory.