Roubion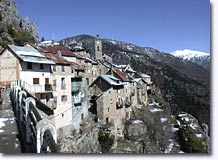 After a steep winding road (the D 30) that climbs up into a red schist gorge , Roubion will appear, looking from above like a proud eagle's nest hanging from the cliff, seemingly watching over the valley from the top of its ramparts.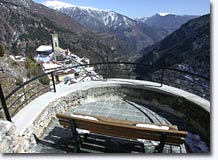 In this peaceful untouched environment, Roubion (its name comes from the Provencal word "Robione", meaning cliff) benefits from a panoramic view and invigorating breezes, as well as history going back more than two thousand years!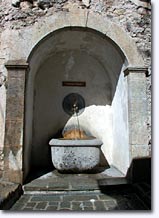 It was founded around 800 B.C. by the Celto-Ligurians, and today is a delightful medieval village to stroll around. You'll find surprising steeply sloping alleys and many ancient vaulted passageways, as well as little fountains filled with crystal clear water.
There is also a superb sheep's fountain dating back to the 17th century, beautiful ancient stone barns with crooked walls, and a tiny mountain chapel with a bronze bell, etc...
The charm of these steep cobbled alleys paved with sparkling green flagstones is impossible to describe.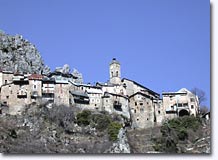 Finally, you must climb up to the ancient ramparts (12th century), where two round towers remain. Two benches have been placed atop each.
A breathtaking view of the village and surrounding mountains will be ample reward for your efforts!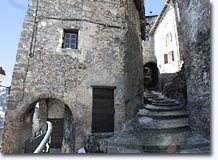 Roubion is located at the gateway to the
Mercantour National Park
, on the "Route des Grandes Alpes". It also has a small downhill skiing resort (30 km of runs).
The skiing area is superb, completely different from certain "concrete resorts". You won't have to suffer from ridiculous queues at the ski lifts either.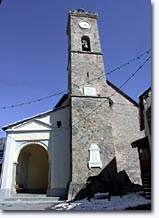 Roubion is a family-oriented resort that likes good plain skiing with no frills.
Leaving Roubion, don't miss the red schist Cians Gorge (15 km) and Daluis Gorge (30 km), the valley of La Tinee (12 km) and the hamlet of Vignols (9 km) where the
bearded vulture
has been reintroduced.
What to see
12th century ramparts.
Chapel of Saint Sebastien (16th century, listed historical monument).
Church of Notre-Dame du Mont Carmel (18th century).
The village oven, the sundials, the dovecote, the old barns.
Leisure activities
Walking, Mountain biking, horse riding.
Para gliding, climbing, archery.
Horse riding. Fishing.
Days to discover animal and plant life are organised regularly.
Winter: Alpine and cross country skiing at the "Les Buisses" resort (1.410m to 1.920m)
30 km pistes and 7 ski lifts.
Accomodations
Holiday rentals. Gites.
Bed and breakfast.