Auribeau sur Siagne
Exit highway A8 at Mandelieu then head in the direction of Grasse for about 9km. Nice International Airport. Mandelieu Airport.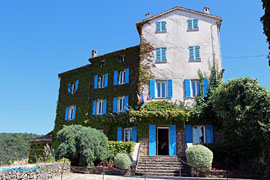 Auribeau, perched on a rocky peak at the opening of the canyons of Siagne, is directly across from the sea.
At the foot of the village, which is one of the most picturesque sites ot the
Alpes Maritimes
, is that shady river the Siagne, a joy to all walkers.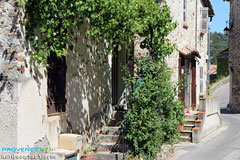 Narrow mounting streets bursting in flowers, are lined with houses, some of which go back to the 14th century.
In the heart of the village is "la placette", the joining point of the 4 main streets.
What to see
The restored 18thc. church.
The fortified Soubran doorway.
Rue du Four. Notre Dame de Valcluse sanctuary.
Landmark table.
Leisure activities
Walks. Hikes.
Crafts.
Painting exhibitions.
Fishing (1st category).
French bowls. Cycling.
Accomodations
Hotels.
Campsites.